By Emanuella Grinberg
CNN
LANSING, Michigan (CNN) -- The massive injection of funds to the Detroit automakers has come too late to save the American Dream for one man.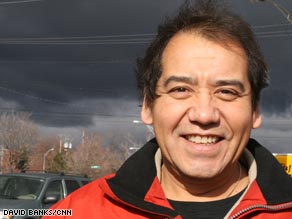 Victor Pizana is trying to stave off bankruptcy after setting up his own business with cash from a GM buyout.
"I'm hurt already. At this point, there's probably no helping me. They can't get blood out of a turnip," said Victor Pizana.
Pizana began working for GM in Lansing, Michigan, back when they still built Oldsmobiles there, and spent 31 happy years with the company before deciding to cash in his chips and invest in himself.
Pizana was one of 35,000 GM workers who took a deal from the automaker in 2006. He took his buyout money, his savings and his high school diploma and started a trucking company named after his grandchildren, Erica and Alex.
Pizana started out with one truck and one driver -- his son, Andy, who had encouraged him to start the business.
Yet he remained tied to General Motors -- he found steady work with several companies hauling parts to and from GM's manufacturing plants. Eventually, Pizana acquired two more trucks and brought on two more drivers who were friends of his son.

Hear Pizana and family members reminisce about growing up in Lansing »
"I wasn't getting rich, but I was making all my payments and the guys were making money and prospering, and that to me was pretty happy," said Pizana, who lives in Lansing, a town that has seen its fortunes rise and fall in tandem with GM's financial health. "We were thinking, what could go wrong?"
Then the perfect storm hit. The economy tanked and Pizana lost business when manufacturers cut back runs. Diesel fuel prices soared while Pizana's charges remained the same. An avalanche of bills and threatening phone calls followed and, little by little, Pizana began cutting back, handing over his trucks and firing his drivers until there was nothing left.
Earlier this month, a little more than two years after he incorporated E&A LLC, Pizana handed over his last truck to the bank in an attempt to avoid bankruptcy.
"I never thought I'd get in this world of a mess after I retired, because the business was working so well," he said. "But I lost all my retirement money and all this stuff, my truck and my equipment and everything like that, so now I just got to start over again."
Even after closing up shop, Pizana continues to depend on GM for his livelihood. He has found occasional work driving trucks for a company that used to hire him to haul GM parts.
As Pizana reflected upon his brief foray into entrepreneurship, he said he had no regrets. But he is fairly confident that he can pinpoint the moment in time when things started to fall apart.
"Having GM lose everything and shut the plants down, that put a big bite into us," Pizana said in a telephone interview earlier this month, during a night run between Indiana and Tennessee. "After that, there was no coming back."
Pizana is just one example of a former GM worker who has never severed ties with the automaker. Some, like Pizana, continued relying on the company for business. Others, like his 81-year-old father, depended on the company for insurance to treat diabetes and the aftermath of two heart attacks.
Now, both men are in a bind. Pizana has lost his personal fortune, his job and the jobs he had created for his son and his friends. GM recently cut his father's benefits, leaving him to search for alternative coverage.
Yet Pizana remains reluctant to speak ill of the company that employed him and his father, and that put his own wife and children through college. And while a bailout probably won't help him, he believes that government assistance for GM, Ford and Chrysler would provide a lifeline for the country's languishing middle class -- especially in Michigan, home of the country's highest unemployment rate.
"GM and the automakers have made a lot of the country's middle class. There's a lot of middle-income people depending on them. And not just GM plant workers -- people in the logistic plants that make the parts, the trucking companies like me, the shipping companies," he said.
"Our sons or grandkids need some kind of decent-paying jobs."
Now Pizana divides his time among his truck runs, caring for his ailing father and pursuing ways of putting a dent in his debt.
"I took a chance and I tried. At least I can say I took a chance, and if it would've worked, it would've been great. But things just didn't work," he said. "When I can make my bills on time, sit back and watch cable and get food on the table, I'll be happy."
E-mail to a friend

All About Cars and Car Design • General Motors Corporation • Michigan