By Josh Levs
CNN





DOUGLASVILLE, Georgia (CNN) -- The Douglasville Police Department said Monday its officers will undergo "sensitivity and cultural diversity training" after a Muslim woman who refused to remove her head scarf at a courthouse was jailed.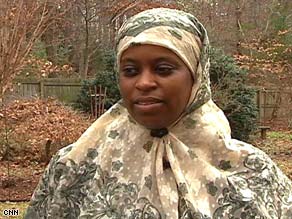 Lisa Valentine has been shaken "to her core" by her arrest last week, her lawyer says.
"We never want this to happen again. It's not our intent to embarrass anybody," Police Chief Joe Whisenant said at a news conference.
The judge who had the woman jailed briefly for contempt of court will also take part in the training, Whisenant said.
The incident took place December 16 when Lisa Valentine, who also goes by her Muslim name, Miedah, accompanied her nephew to a hearing at Douglasville's municipal courthouse. The scarf, called a hijab, covered her hair but not her face. It is part of her religious belief that her hair should be covered in public, as a form of modesty.
In an interview with CNN's Rusty Dornin, Valentine said a bailiff told her she could not enter with her head scarf.
"I didn't pose a threat to anybody," Valentine said. "So I got really angry. I told her that was discrimination, and I said it was b.s. -- and I used the full term of the word."
She tried to leave, but the bailiff demanded that she appear before the judge, and pulled on her arm, Valentine said.
"I was right near the door. I said, 'Don't touch me.' And so she got in front of me," Valentine said. "... She called for a guard or a police officer. He came and then he just was near me, and was like, 'You're going to do what you're told to do.'
"And then he grabbed my arm, and of course instinctively I pulled it away. So he's like grabbing me and bending my arm, like you see people who are resisting arrest, and trying to get really physical with me. ... Then I said, 'OK, OK,' and I let them put the handcuffs on me."
Valentine said she would have had no problem with allowing a female officer to check under her head scarf to make sure she did not pose any danger.
Valentine said that when she told the judge what had happened, he sentenced her to 10 days in jail for contempt of court.
At the jail down the street, Valentine had to change into a jumpsuit. Her mug shot was taken -- without her head scarf.
She was let out of jail later that day. Her attorney, M. Khurram Baig, said he does not know why she was released so quickly.
"It's been devastating for her," Baig said. "We're talking about a major life-altering event for somebody to realize that everything they thought they knew about our justice system may not actually be the case. So she's been shook to her core."
Douglasville authorities describe the day's events somewhat differently.
In a news release, police said Valentine repeatedly used the expletive, told the bailiff that the judge was "racist," pointed her finger toward the officer, and "became loud enough that she attracted the attention of another officer."
The news release said an officer did tell Valentine she could not leave, "and placed her hand on Mrs. Valentine's wrist."
"Mrs. Valentine resisted the officer's efforts by stiffening her arm, but did not physically fight with the officer," the release said.
When Judge Keith Rollins was told of the incident, the news release said, he ordered her jailed for 10 days.
The police department's senior staff then investigated the incident and "determined that no fight took place" and "that Mrs. Valentine's actions were primarily verbal and her resistance passive," according to the release. The police chief told the judge of the department's findings and the judge rescinded the contempt order, the release said.
"Mrs. Valentine was not arrested because of her head scarf or any action related to the scarf," it said.
Valentine's attorney said she has told him she did not call the judge racist.
When word of the incident spread, groups across the country weighed in on Valentine's behalf, including the Council on American-Islamic Relations, the National Association for the Advancement of Colored People, the Anti-Defamation League and the American Civil Liberties Union.
On Friday, about 50 people demonstrated outside the courthouse. Speakers called Valentine's treatment a violation of the Constitution and called for Rollins to step down.
Valentine's husband, Omar Hall, said the judge sent the message "that nobody of faith who wears a turban, a khimar, a yarmulke or a habit ... can enter his court." iReport.com: Do you wear a religious garment?
Another woman, Halima Abdullah, said she spent 24 hours in jail in November 2007 after a similar incident involving the same judge.
Rollins did not respond to calls from CNN on Monday and has not made a public statement.
The Douglasville police news release said that although Rollins prohibits head coverings in his courtroom, he "has also made an accommodation for those people who, for legitimate health, religious or other serious reasons, either cannot remove the headgear or, where doing so, would subject them to violating religious tenets or suffer extreme embarrassment or distress."
"In such cases, the judge has heard cases involving those people outside the courtroom at another location," the release said.
Rollins would have made that accommodation for the case of Valentine's nephew, but the officer "did not affirmatively provide information on that policy," according to the news release.
"It is also unclear how familiar this officer was with the alternative procedure," the news release said.
When told Monday of the planned sensitivity training, Yusof Burke, Georgia executive director of CAIR, said it was "a responsible action" and that he was "glad to see they've had a change of heart."
Asked whether CAIR considered it enough, he responded: "I think, from our standpoint. ... We just want to make sure it doesn't happen again."
Baig, Valentine's attorney, said he and his client needed to learn more specifics about the plan, and otherwise had no immediate response.
Jeffrey Toobin, CNN senior legal analyst, said that when it comes to cases involving headwear, courts "generally weigh the government necessity vs. the interest in religious freedom."
"Courts can say you have to take a head scarf off for a driver's license photo because there is a public interest in making individuals clearly identifiable," Toobin said. "The government interest in removing a head scarf to enter a courtroom, I think, is much thinner."
Whisenant, Douglasville's police chief, said the sensitivity and cultural diversity training will be "forthcoming very soon."
"We're taking all steps that we think are reasonable to make sure that this never happens again in our courtroom," Whisenant said.
E-mail to a friend

All About Islam • Georgia • Religion • Council on American-Islamic Relations