(CNN) -- Jackson Hole Mountain Resort in Wyoming closed briefly Monday because of an avalanche, two days after a different avalanche killed a man there.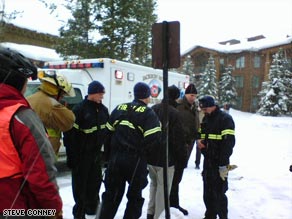 No one was hurt in Monday's avalanche at Jackson Hole Mountain Resort, the second to hit the resort in days.
Monday's avalanche happened at 9:30 a.m., before the slopes were open to the public, and no one was hurt, the resort said.
The statement said the resort had closed. But by about noon, resort spokeswoman Anna Olsen said some lower lifts had opened.
On Saturday, two skiers were swept down a snow path when the slope they were on failed. One of them, David Nodine, 31, was buried and killed. The resort said he was wearing a helmet and an avalanche transceiver, which allows authorities to find a buried skier.
Olsen said Nodine was killed in a "slab avalanche," meaning a large slab of snow shifted. iReport.com: Heavy snow in Wyoming
Olsen said the resort has received "an enormous amount of snow in the last eight days," calling it an "unusual phenomenon for this area." That means an "unusually high avalanche danger," she said. iReport.com: Avalanche safety training course
Avalanches have killed four people at the northwest Wyoming resort since it opened in 1966. Two were workers killed during hours before the slopes were open to the public.
Don't Miss
The only other death of a skier in an avalanche happened eight years ago, Olsen said.


E-mail to a friend

All About Natural Disasters • Jackson Hole • Wyoming