UNITED NATIONS (CNN) -- The U.N. Security Council met Wednesday night to discuss a Libyan-sponsored draft resolution that calls for an immediate cease-fire in Gaza. The United States indicated the resolution isn't balanced enough.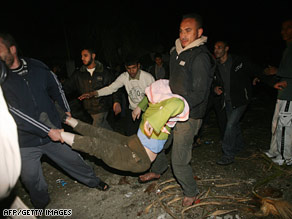 Men carry a wounded woman in Rafah in the southern Gaza on Wednesday.
"This resolution as currently circulated by Libya is not balanced and therefore is not currently acceptable to the United States," U.S. Ambassador Zalmay Khalilzad told reporters after the emergency meeting.
The proposed resolution "strongly condemns Israeli military action" and calls on the Jewish state to immediately cease "military attacks against the civilian population." It also calls for the protection of the Palestinian people.
British Ambassador John Sawers pointed out that Libya's draft resolution does not mention the rockets fired at Israel by Hamas. He said any resolution accepted by the council would have to be balanced.
"The action by the Israelis was provoked by Hamas, by their rocket attacks into Israel," Sawers said. "But we believe that action has gone on for too long, that too many civilians have died and it needs to be brought to an end straight away."
Sawers said the council likely will vote on the proposal sometime this week.
Israeli airstrikes have hit Gaza since Saturday in an effort to halt the firing of rockets into southern Israel. More than 390 Palestinians have been killed, according to Palestinian medical sources, and some 1,900 people have been wounded, including 400 women and children.
Don't Miss
Israeli sources say four Israelis have been killed by Palestinian rocket fire since Saturday.
During the emergency meeting Wednesday, U.N. Secretary-General Ban Ki-moon called for an immediate cease-fire in Gaza, condemning the recent actions of both Hamas and Israel. He appealed to the international community to do more to end the violence.
"Not enough has been done" by world leaders to achieve a cease-fire, Ban told the Security Council on Wednesday night.
On Sunday, the Security Council issued a nonbinding statement calling for an immediate cease-fire, but it went unheeded.
"The civilian population, the fabric of Gaza, the future of the peace process and stability in the region ... all are trapped by the indiscriminate firing of rockets by Hamas and the disproportionate size of the Israeli operation," Ban said.
U.S. State Department spokesman Gordon Duguid said in Washington on Wednesday that the United States is among the countries pushing for a cease-fire.
Earlier this week, the White House called on Hamas to halt rocket fire against Israel so that calm could be restored in Gaza. Duguid on Wednesday denied suggestions that there had been a shift in the U.S. position.
"What I would say is that a cease-fire that is fully respected and obtained as quickly as possible is exactly what the president and Secretary [of State Condoleezza] Rice have called for," Duguid said.
Israeli Prime Minister Ehud Olmert on Wednesday said Israel's air assault on Gaza would not end until Hamas militants quit firing rockets into Israeli territory, according to a senior government official.
"We did not enter this operation in order to end it with the firing still continuing," Olmert said in a Security Cabinet meeting, according to the official.
Despite a French proposal for a humanitarian truce, Israel decided to continue its operation, saying the residents in Israel must have a "real and sustainable solution," Olmert spokesman Mark Regev said.
Regev said Olmert and his top advisers agreed to continue the attacks but would work with the international community to meet the humanitarian needs of Palestinians.

Watch aid arrive in Gaza »
Duguid said the United States will press Hamas and the Israeli government to allow aid shipments.
At the U.N., Ban said that although Israeli officials have assured him that one crossing into Gaza has been opened to allow humanitarian aid into the area, other crossings are still closed.
Israel has said it is only targeting Hamas militants and infrastructure and is trying to keep civilian casualties in Gaza to a minimum.
"Israel cannot and will not allow its citizens to be sitting ducks for terror attacks," Israeli Ambassador Gabriela Shalev told the Security Council. "Israel will continue to take necessary measures to protect its citizens and fight terror."
E-mail to a friend

CNN's Charley Keyes and Richard Roth contributed to this report.