(CNN) -- Tropical Storm Gustav's impending arrival in the Gulf of Mexico, potentially as a major hurricane, has prompted Louisiana Gov. Bobby Jindal to declare an emergency for the state.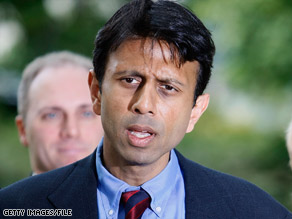 Louisiana Gov. Bobby Jindal, shown in June, says National Guard members will help storm preparations.
"We are going to hope for the best, but we're preparing for the worst," Jindal said Wednesday.
The move puts Louisiana in position to receive federal disaster assistance. Jindal also said 3,000 National Guard members will be deployed to vulnerable areas in Louisiana on Thursday to assist with securing shelters and preparing for possible evacuations.
Jindal cited forecasts that Gustav, which killed 22 people in Haiti and the Dominican Republic this week, could become a Category 3 hurricane in the coming days and hit the Gulf Coast by late Monday morning.
Computer models show the storm could head toward New Orleans, but forecasters warn that Gustav's destination cannot be pinpointed.

See a map of Gustav's projected path »
Still, people in New Orleans -- hit by Hurricane Katrina nearly three years ago -- and beyond were scrambling Wednesday to prepare. iReport.com: Are you preparing for the storm? Send photos and video
Mayor Ray Nagin said he planned to cut short his trip to the Democratic National Convention in Denver, Colorado, to return to New Orleans by Wednesday night.
"We are ready to evacuate. The big question is, 'What shape are our levees in?' " Nagin said at the convention Wednesday, noting that the U.S. Army Corps of Engineers have been rebuilding the levees breached during Katrina.

Watch Nagin discuss the levees »
"I am cautiously optimistic," Nagin said. "This will be a good test for us. I wish we didn't have to take this test."
As of 11 p.m. ET Wednesday, Gustav's center was about 205 miles west of Port-au-Prince, Haiti, and 100 miles south of Guantanamo, Cuba, according to the National Hurricane Center. It was moving west-southwest at about 8 mph and is expected to turn west Thursday and west-northwest Friday.
Hurricane Katrina killed more than 1,800 people when it struck August 29, 2005. Towns along the Mississippi Gulf Coast were flattened, and parts of New Orleans flooded when the city's levee system failed.
Alluding to Katrina's disastrous aftermath, Jindal said Louisiana is "better prepared than before" and has hundreds of buses and thousands of shelter beds lined up in preparation for another storm.
He urged residents to fill up their cars, stockpile three days' worth of food and water, and refill prescriptions in case evacuations become necessary.
The state has requested a "pre-landfall" declaration from President Bush, asking the federal government to release personnel, ambulances and other assistance to prepare for the storm.
Still, Jindal stressed that "our people also have personal responsibility" to prepare for the storm.
Officials stressed how uncertain the projections were so many days in advance but urged residents to be ready for the worst.
"Everybody should be looking at their plans, just like we're looking at our plans, and get ready," said Jerry Sneed, director of New Orleans' Office of Emergency Preparedness. "If they don't have a plan, you still have time. If you wait until the storm's on top of you, that's when panic's going to set in and you don't think wisely."
Nagin will order a mandatory evacuation if a hurricane of a Category 3 intensity or higher approaches the city, Sneed said. However, an evacuation could be ordered for a less intense hurricane if it were particularly slow-moving and carried greater flooding potential, he said.
New Orleans estimates that 30,000 residents would need help evacuating, Sneed said. He said that only 7,000 people have signed up to get that help.
Sneed said buses and trains were ready to take evacuees to shelters in Shreveport, Alexandria and Monroe, Louisiana, and in Jackson, Mississippi.
The city's pumping capacity is back to pre-Katrina levels, Brenda Thornton, a spokeswoman for the city's Sewage and Water Board, said Wednesday. The pumps can handle 1 inch of rain in the first hour, she said, and a half-inch every hour thereafter.
New Orleans has the largest pumps in the nation, Thornton said, capable of moving 10,000 cubic feet of water per second.
However, Nagin's office said the picture is not as rosy as it might seem.
"Although we have made strides in rebuilding our infrastructure, the levees have not been fully repaired, and we have an $800 million budget gap to complete our sewage and water systems," the mayor said in a statement.
The city has been lobbying the federal government for revitalization funding for three years, Nagin's office said, and has received less than half of Federal Emergency Management Agency funding needed to repair or rebuild public facilities. In May, the city was notified that it would receive a community development block grant from the federal government.
Sneed said he is in touch with the Army Corps of Engineers, which is rebuilding the city's levees, as well as the Sewage and Water Board. "Everything is working as it should," he said. "The citizens should not be worried about the flooding again."
The Louisiana Society for the Prevention of Cruelty to Animals announced that it was closing its shelter to the public Wednesday afternoon to begin evacuating animals.
"We definitely don't want to wait until Saturday or Sunday to decide what to do," Ana Zorrilla, director of the group, said in a statement.
The SPCA urged pet owners to think about how to evacuate pets as they made their plans.
Jindal is scheduled to speak next week at the Republican National Convention in St. Paul, Minnesota, but he said Tuesday that he'll change his plans if the storm warrants it.
"As long as there's a chance that we'll be in this storm's path, I'll be here in Louisiana," he said. "I'm going to make sure I'm here personally to help lead the preparation efforts and, if necessary, any recovery efforts that are necessary after the fact."
E-mail to a friend

CNN's Kate King and Eric Marrapodi contributed to this report.
All About Hurricanes and Cyclones • New Orleans • Bobby Jindal