By Ashley Fantz
CNN

BATON ROUGE, Louisiana (CNN) -- It was dark and hot and everyone was bone tired on Sunday night in Baton Rouge. But they still came, many in truck after truck, to a parking lot on the edge of the city, all armed with shovels.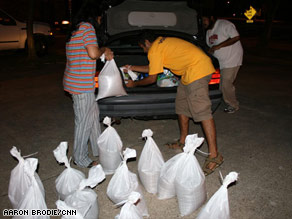 Dwayne Nickles, center, loads sandbags into the trunk of his car with Harsha Dissanayake, left.
"Sandbagging -- gotta do it," said Dwayne Nickles, his T-shirt soaked through, grunting as he dug into a massive pile of sand left for those who needed to guard their homes against potential Hurricane Gustav flooding.
Squatting next to Nickles, Louisiana State University student Harsha Dissanayake had too much energy for someone who had spent much of the day at the school medical school helping officials take care of patients.
The 20-year-old moved 10 days ago from Sri Lanka to Baton Rouge, the state capital about 80 miles northwest of New Orleans. When he heard of the impending hurricane, he thought about the miserable experience his country endured during the 2004 tsunami.
"Southern hospitality is real," he said. "People are so, so nice to me, and they ask me, 'Did you lose your relatives? What was it like during the tsunami?' and I feel like they really care. iReport.com: How did you prepare for Gustav?
Don't Miss
"I knew I had to volunteer and do my part to help," he said.
Dissanayake was, in part, also helping his friend Kenneth De Abrew, also an LSU student. De Abrew had a remarkably cheerful disposition considering he lives on a first floor apartment complex that often floods.

See and hear De Abrew talk about his hurricane plans »
"You just have to be ready for it," he said, laughing. "It's nature. Actually, it's kind of exciting!"
He heaved a few bags toward their pile and paused, surveying the dozen sweating people working hard to dig, stuff and seal bags.
"Sandbags actually remind me of bad stuff," De Abrew said. "They use them in wars to make bunkers."
E-mail to a friend

All About National Hurricane Center • Hurricane Katrina • Natural Disasters • New Orleans • Mississippi