By Ashley Fantz
CNN

NEW ORLEANS, Louisiana (CNN) -- By Sunday, thousands of people had evacuated New Orleans, leaving behind a shell of a city.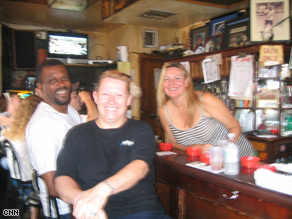 Johnny White's bar on Bourbon St. will stay open during the storm. Marcie Ramsey, 36, sits with Raynette Baca.
In the French Quarter, the maroon, purple and pink buildings are the loneliest they've been in years.
The weather is sunny, with no clouds, and extremely muggy. But there are plenty of signs of an approaching storm.
For some, leaving was a no-brainer. But for others, deciding to stay was just as easy.

Watch an audio slideshow about the evacuation »
Johnny White's never closes. The Bourbon Street pub didn't shut its doors once during Katrina, so the booze will not be interrupted here for Gustav. iReport.com: Did you stay? Share photos, videos
"Turbo isn't going to let anything happen to us," bartender Marita Jager said, nodding toward her German Shepherd lying in the doorway, gnawing on a turkey leg. "He protects us from everything."
This is the kind of joshing the regulars at Johnny's love to give out-of-towners. It's a tiny "hole in the wall" by one person's description, with a jukebox and two televisions usually playing a ballgame.
On Sunday, of course, the TVs were tuned to CNN and the Weather Channel, but the laughs and conversation drowned out the volume.

Watch a weather report on Gustav »
"People need somewhere to go for some normality," said Jager, pouring a gin and tonic. "We're gonna stay open for the whole thing."
No one is leaving New Orleans whose butts are planted on Johnny's wobbly bar stools. They repeat the chorus of many who decided to face Gustav. I will not leave my home. I survived Katrina so I can deal with a Category 3. I can't afford a hotel or gas or meals. I don't want to leave my animals.

Watch one man's story about why he's staying »
There is defiance in their words. To stay is a way of telling Katrina, by way of Gustav, you're not going to hurt me again.
But Marcie Ramsey is scared. She wipes tears away and puts out her cigarette. She is planning to bartend at Johnny's throughout Gustav if it hits during her graveyard shift.

View Gustav's projected path »
"I just cannot take it when I think about this city going through that again," she says, sniffling. "I saw the Humvees and the National Guard driving down my street this morning and they waved and shouted at me. They remember me from back then, you know.
Don't Miss
"And that sorta made me feel better because now, at least, there's qualified people holding the bad people back," she said.
"Yep, nobody around here, the folks here at this time, are leaving," said James Broden as he walks into Johnny's. "We've been warned. I know, I heard it all on the news -- that 'nah, nah, blah, blah, blah.' Whatever."
"I don't have a car. I don't have a bike," he said. "I moved here from Florida and I know what a hurricane is like. I'm staying."
Elsewhere in the French Quarter, there were a few signs of life earlier Sunday. A rider on a 10-foot-tall unicycle wheels down Chartres Street. An hour later, four National Guard Humvees rumble along Bourbon Street.
At Toulouse and Royal streets, building after building is boarded up. On Royal, across from the Rib Room, a bar, boarded up with plywood, has a simple message in big black letters: "Live." Nearby, a cardboard sign echoes the sentiments with another single word: "Leave."
On nearby Toulouse, Jacob Lewis and friend Bill Espy headed home after a raucous Saturday night. Lewis wore a black mesh see-through T-shirt with a loosened plaid tie, his eyebrow and lip pierced. Espy wore his blue shirt completely open, and he has a leprechaun tattoo on his right arm.
They passed a hanging sign advertising "huge ass beers to go" on the front of a bodega. Its storefront, like every other building in the French Quarter, was boarded up.
Lewis and Espy were still debating whether to leave New Orleans.
"I live with a roommate, an older man who is refusing to leave," Lewis said. "I can't in good conscience leave him behind, but I want to leave. I don't have the energy to go through this again after Katrina."
"Yeah, I should probably leave, too," Espy said, laughing. "At this point, after seeing the weather report, I'm starting to change my mind."

Watch a report on evacuations »
Espy, who works at antique and flower shop, said he may have a way out. His boss has two vans to take friends and employees out, and he's hoping to find a seat on one. But Espy, who has family in Nashville, Tennessee, didn't know where the vans are going. And he hasn't reserved a seat yet.
"How much time do you think I have?" he asked.
"Not much time," a reporter responded.
And with a shrug of his shoulders, he kept walking.
A few blocks away, Monty Mashburn is sweating in the kitchen at the restaurant of his namesake. Reporters are chowing on omelets and home fries.
"We're not idiots," said Mashburn, throwing hash browns on a sizzling grill. "We've gotten a raw deal from hurricanes so I make the decision to stay with seriousness."
The 58-year-old moved into a home above the restaurant after losing his home in Katrina.
"I've got $30,000 worth of food for this weekend and the last weather report I saw said it wasn't going to be worse than a 3," he said. "I just can't leave. And besides, people like you reporters need a place to eat, right?"
Three generations of Mashburn's family have run the restaurant. It's a Fort Knox, he said.
"If I think it is going to be bad, I'll get me and my family out," he said. "I will. Nothing is worth the harm, but for now, I don't see the need."
E-mail to a friend

All About French Quarter • New Orleans • Hurricane Katrina