BATON ROUGE, Louisiana (CNN) -- The governor of hurricane-battered Louisiana said Wednesday that the prospect of some areas of the state being without electricity for weeks, as power company officials have warned, is unacceptable.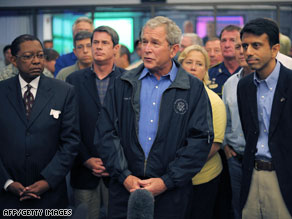 Mayor Kip Holden, from left, President Bush and Gov. Bobby Jindal visit a Baton Rouge operations center.
"There is no excuse for delay. We absolutely need to quicken the pace at which power is being restored," Gov. Bobby Jindal said.
Both he and President Bush, who visited the state Wednesday to see areas damaged by Hurricane Gustav, called restoring power the state's priority.
"They've got to get electricity up here in Louisiana," Bush said. "There's a lot of folks from this state that are working hard to restring the lines. I would ask that if utilities in neighboring states have extra manpower, please coordinate with the state and send the folks in."

Watch Bush discuss Gustav response »
The reluctance of Gustav, now a tropical depression, to leave the area was adding an unwelcome facet to the recovery effort.
Jindal noted that several cities continued to receive heavy rain Wednesday, such as Monroe, where 9.2 inches had fallen since Tuesday night.
"Tropical Storm Gustav, Hurricane Gustav, whatever you want to call it, continues to cause great, great, damage in our state," he said.
Nearly 1.2 million households and businesses were without power as of late Tuesday, Jindal said, and the lack of electricity "continues to be the most critical obstacle to the quick recovery of our state."

Watch how Gustav downed power lines »
The lack of power hindered access to gasoline, the governor said, noting that some gas stations had fuel but no power with which to pump it. As a result, people waited in long lines at many of the functioning gas stations. On its Web site, the state had posted a list of working gas stations.

Watch Jindal say no excuses for aid delays »
Jindal reported four storm-related deaths: two people were killed Tuesday night by tornadoes and two others by carbon monoxide poisoning. He did not identify those killed.
There have been few reports of looting or crime in the state in Gustav's wake, Jindal said. Two or three people attempted to loot a supply truck in Ville Platte overnight and fired upon National Guardsmen, he said. The National Guard returned fire, and the people fled. No one was injured.
Many people began returning to Louisiana on Tuesday, including to New Orleans, where Mayor Ray Nagin said people who "jumped the gun" by trying to return to the city ahead of the lifting of the evacuation order -- set for midnight -- would be allowed in.
Nagin had originally said residents could return home Thursday.
"No one will be turned back if you have an identification that you live in the metropolitan area," Nagin told CNN affiliate WWL. "Now, if you're a visitor and you're coming in ... we're turning them around."
He joked that Tampa Bay Buccaneers fans arriving Wednesday ahead of the team's game against the New Orleans Saints would be especially unwelcome.

Watch residents return home »
"We don't need them in our stadium anyway," he quipped before saying visitors could enter the city Thursday.
The mayor advised returning residents to "keep a level head."
"Some people are going to come to their homes, they're going to find trees in the middle of their kitchens," Nagin said. "The key right now is for everyone to stay calm, deal with the issues as they're presented."
The mayor said Wednesday that a dusk-to-dawn curfew would be relaxed about midnight Thursday to allow people back into the city.
The official mandatory evacuation order for the general population will remain in effect until then, said the mayor's spokesman, James Ross.
Nagin had planned for a phased return to the city, allowing operators of essential businesses and some residents back Wednesday. Safety and utility personnel began returning Tuesday.

Watch Gustav's aftermath »
Bush said he had authorized the release of some oil from the Strategic Petroleum Reserve to aid in the region's clean-up efforts.
The president has declared 34 of Louisiana's 64 parishes federal disaster areas, making residents there eligible for federal aid.
Gustav -- which has been downgraded to a tropical depression, meaning its winds are less than 39 mph (63 kph) -- was still causing trouble in the Gulf region and northward. iReport.com: Did Gustav affect you?
The storm had 20-mph winds as it moved to the northwest at 3 mph. Its center was about 20 miles (32 kilometers) south of Texarkana, on the Texas-Arkansas border at the northeast corner of Texas.
Early Wednesday, flood watches and warnings remained in effect for parts of Louisiana, Mississippi, Texas, Arkansas, Oklahoma and Missouri.

Watch Louisianans get back to business »
As of 4 a.m. CT, some parts of Louisiana and Mississippi had already received more than 6 inches of rain. Among them: Monroe, Louisiana (9.3 inches); Alexandria, Louisiana (8.1 inches); McComb, Mississippi (7.3 inches); and Hattiesburg, Mississippi (6.4 inches).
Other areas receiving heavy rainfall were Mount Ida, Arkansas (4.7 inches); Pensacola, Florida (3.6 inches); and Baton Rouge, Louisiana (4.6 inches), according to the National Weather Service.

Watch who Gustav hit hardest »
Gustav came ashore Monday near Cocodrie, Louisiana -- about 80 miles southwest of New Orleans -- and moved along the coast to the northwest, avoiding a direct hit on the city. Houma, Morgan City and other coastal cities took the brunt of the storm.
E-mail to a friend

All About New Orleans • Mississippi • Louisiana • Ray Nagin • Hurricane Gustav