(CNN) -- Three days after Hurricane Gustav came ashore on the Gulf Coast, nearly 829,000 households were still without electricity, power company officials said Thursday, warning that power may be restored slowly in the hardest-hit areas.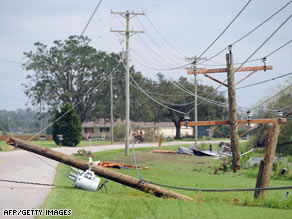 A power line juts into the roadway in Greenwood, Louisiana, after Hurricane Gustav passed through.
"In some areas where the damage is the most extensive or where access is the most difficult, it could be several weeks before necessary repairs are completed and all customers are restored," said Entergy Corp., which had more than 700,000 customers without power.
The majority of Entergy customers -- about 622,246 -- were in Louisiana. Baton Rouge and New Orleans were among the cities reporting the largest number of outages, the company said.
In Arkansas, 69,548 households were without power, Entergy said, and in Mississippi, there were 10,005.
The company said its power outages, which peaked at 850,000 Tuesday, were the second-worst in its 95-year history.

Watch the governor say there's no excuse for delays »
"That easily bypassed the 800,000 outages in Hurricane Rita in 2005. The only larger number of Entergy outages was 1.1 million in 2005 during Hurricane Katrina," Entergy said.
Cleco Corp. said Thursday it had about 128,798 customers in Louisiana who were still without electricity. iReport.com: Did Gustav affect you?
Louisiana Gov. Bobby Jindal and President Bush, who visited the state Wednesday to view areas damaged by Gustav, said that restoring power was the top priority in Louisiana.
Jindal said the prospect of some areas being without electricity for weeks is unacceptable.
"There is no excuse for delay, we absolutely need to quicken the pace at which power is being restored," he said.
E-mail to a friend

All About Louisiana • Entergy Corporation • Mississippi