HOUSTON, Texas (CNN) -- Houston's police chief announced Sunday a weeklong nighttime curfew for Texas' largest city, a day after Hurricane Ike barreled ashore just southeast of there.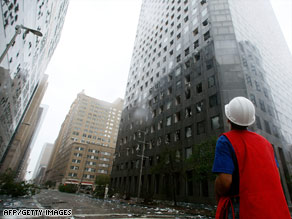 A man inspects the damage in front of JP Morgan Chase Tower in Houston, Texas, after Hurricane Ike on Saturday.
The citywide curfew, from 9 p.m. until 6 a.m., will be in place until Saturday morning, Houston Police Chief Harold Hurtt said.
The curfew is "for purposes of public safety," he said.
"We are asking people to not be out in the streets either in vehicles or on foot unless you have to, in the case of an emergency," he said.
Power remained out for much of the city, and Houston Mayor Bill White said he had emphasized to the electric company that serves the area, CenterPoint Energy Inc., that "everything humanly possible" should be done to restore power.
The company said Saturday that 2.1 million of its customers were without power. Some 390,000 Entergy customers in Texas also remained without power Sunday, the company said. iReport.com: Are you cleaning up after Ike?
White said CenterPoint had brought in crews from all over the state, but he added, "I have requested they bring in crews from all over the country."
The issue of water pressure -- which was low Saturday, prompting officials to ask citizens to drink bottled or boiled water -- appeared to have been resolved by Sunday, White said.
However, there were still isolated points of low pressure, and crews were testing the city's water supply. On Saturday, White said that one of the risks of having low water system pressure is "the possibility there could be intrusion of water from outside that water system."
"That is what we're assessing," he said at the time.
There is still no sign of contamination, White said Sunday, but he asked that residents continue to drink bottled water or boil tap water before drinking it.
Despite the downed trees, absence of electricity and closed gas stations, White said he found it heartening to see many Houston residents show a take-charge attitude. iReport.com: Houston photographer captures aftermath
He said he saw residents take chain saws to remove trees that lay across city streets, pile them along the side of the road and clean debris from culverts.
"The water had been up to people's porches, with half a dozen trees across the streets," he said. Once the trees were gone and the debris cleared, "the water went down and the streets were cleared block after block after block," he said.
"It's impressive what's happening with citizens of this community taking the initiative," he said, cautioning people to be certain there are no downed power lines amid debris they might clear.
E-mail to a friend

All About Houston • Hurricanes and Cyclones