By Alanne Orjoux
CNN
(CNN) -- It reads like a folksy Christmas letter, updating everyone on the latest -- but the news was a grim recitation of homes obliterated and damaged by Hurricane Ike in the small Texas town of Smith Point.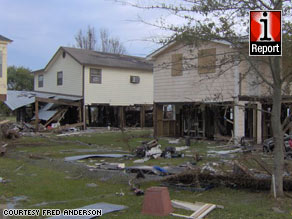 Smith Point, Texas, was hit hard by Hurricane Ike.
"Please forgive my frankness if some of the damage mentioned is to your or your family/friends' homes and this is your first knowledge of it," wrote Jennifer Nash Anderson in a CNN.com iReport on Monday, two days after the Category 2 storm barreled ashore near Galveston, Texas.
"Dennis's boat is across Hawkins Camp Road and Lou has a dead cow in the road," Anderson continued, using the year-old Internet forum as a medium to let friends and neighbors know what had happened to their homes since phone lines were down and cell phone service was sporadic.
Accompanying Anderson's narrative were photographs of the destruction, taken by friend Bill Pirsch. One showed an inverted roof, nearly intact, floating in front of a house. See iReporter Fred Anderson's photos
Anderson's information came mostly from her husband, Fred, the president of Smith Point's volunteer fire department, who called her with updates as he and other volunteers toured the small town as best as they could Sunday and Monday.
She has also undertaken the grim task of keeping a running log of the updates she's getting about more homes. As she gets pictures of what's left of the structures -- if anything at all -- she uploads them to another Web site and puts the owner's name underneath. See iReporter Jennifer Nash Anderson's updates (photos by Bill Pirsch)
"This is the first experience I've had where I've had to call somebody and say ... 'All that's left is your foundation,' " Anderson said in a phone interview with CNN Tuesday, her voice breaking.
"Everybody takes it pretty stoically," she added. "But they just want to know."
It's not the loss of homes and property that's worrying the Andersons. It's the fear that their small community, which centered around the fire department, will cease to be.
"We're very community-minded," Fred Anderson said on the phone from Tyler, Texas, 220 miles north of his home. "Our concern is to get the community going again."
"We're scared to death of losing our community. The houses aren't important, it's the people that are important," Jennifer Anderson said.
The couple is worried that the large number of senior citizens and lower-income families in Smith Point won't be able to rebuild. See more photos and updates from the Andersons
The Andersons evacuated to Tyler Thursday, when they were ordered to do so by county officials. Fred returned to Smith Point Sunday and Monday.
From Tyler, they're taking place in a grassroots effort to keep their close-knit community together. They and other volunteers, including the Andersons' three sons, are gathering bulk ice, water, food and fuel and will begin delivering it to Smith Point Wednesday -- where the largely unscathed fire station has become an emergency center, courtesy of Fire Chief Jay Prague.
Fred Anderson said his friend Terry Tyler of Tyler Ice Company in Tyler donated all the bulk ice he could get. An oyster processing facility near Smith Point has offered to store the ice, and other donations are slowly trickling in.
Members of the community have taken it upon themselves to start helping their neighbors, even if there's little they can really do.
"I'm not blaming anybody, but I think we've been overlooked," Anderson said of promised state and federal aid.
A situation report Monday from Chambers County Emergency Management said they were "waiting on state resources consisting of food, water and ice.
"They say they are on the way, but we have only received one truck and it went fast," wrote Chambers County Emergency Management Coordinator Ryan Holzaepfel.
Chambers County, on the east side of Galveston Bay, was hard hit by the storm, which left at least 10 people dead across the state.
"Ike was pretty much an equal opportunity disaster. In other words, destruction happened from one end of the county to the other," Holzaepfel's report said.
Elsewhere in the county, the small town of Oak Island was devastated, as were the communities of Port Bolivar and Crystal Beach on the Bolivar Peninsula, adjacent to Chambers County.
"Oak Island is the community which we have seen the most extensive damage, and by that I mean the entire community was almost completely destroyed," the emergency management coordinator wrote. "Most of the houses are completely gone and by that I mean they actually are not there."
Fred Anderson said there's nowhere in Smith Point for people to stay, but residents are coming back to see the damage for themselves.
"You can't tell people there's nothing, not to come," he said. "They've got to see it for themselves."
To help his neighbors get an idea of what they were facing, Fred Anderson also submitted pictures on CNN's iReport.
His note accompanying them said they were of "an overlooked location of Hurricane Ike's devastation. Photos are for neighbors and friends to see the condition of their community."
One picture shows a flat concrete slab where a home used to stand. Other images show yards covered with boards and wires -- strewn about as if exploded by a bomb.
Many of the homes in the town were built on stilts that are enclosed by walls to form garages or even bedrooms.
Of the few structures still standing, barely any of the ground-floor enclosures remained -- the bare stilts a testament to the storm's fury.
"Our house lost the entire bottom floor, including walls, furniture, appliances etc. and we have no idea where anything went. No steps either," Jennifer Nash Anderson wrote in her iReport. "The Ludlums' house has completely disappeared as well as the Heeley's and the Jones'.
"The Pickett's home was extremely damaged, sitting on pilings at a 45 degree angle, no steps, stairs nor garage left. Dennis Gurlock's home has extensive damage to it -- maybe non-repairable. Sally has lost her downstairs and roof-extensive damage. Any enclosed areas downstairs throughout [the subdivision of] Little Baytown were completely lost."
Her husband tried to get into the Hartman subdivision, she wrote, but "was unable to do so because the street had a hole in it and debris covered the road.
"However, he heard from someone at the Point who made it in that Donna and Norman's house was intact for the most part. Unfortunately his next door neighbor's house and Joann Brenek's house had extensive damage.
"Texico Road to Igrid subdivision was too flooded to view houses, however, some folks who went by boat said Kenny lost his new pier," Anderson reported.
E-mail to a friend