(CNN) -- The extremely cold weather that has shocked many Americans before the official arrival of winter kept its grip on much of the nation early Wednesday.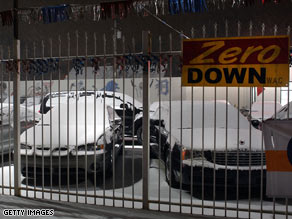 Snow covers autos in a used-car lot on Tuesday, December 16, in Detroit, Michigan.
CNN-affiliate KHQ reported a temperature of 0 degrees in Spokane, Washington, and warned residents to brace for a second invasion of Arctic air.
Snowfall was forecast for Wednesday and into Thursday.
It was only a little warmer early Wednesday morning in Great Falls, Montana, where KFBB reported a temperature of 12 degrees.
Farther south, Butte, Montana, was coping with a reading of minus 15 degrees.

Watch snow blanket Nevada »
At least five tractor-trailers and two other vehicles crashed in Des Moines,Iowa, leaving Interstate 80 closed on Tuesday, according to CNN-affiliate KCCI.
The Iowa State Patrol said almost all the major interstates and highways across the state are snow-covered, with more ice and snow expected Thursday. The temperature early Wednesday morning: 23 degrees.
KARE reported a reading of 5 degrees and light snow in Minneapolis, Minnesota. The expected high Wednesday is only 10 degrees. On Tuesday evening, pipes burst at a Days Inn in Plymouth, Minnesota. Flooding and the loss of power forced more than 100 guests to evacuate, KARE said.
The cold air continues to reach places not usually associated with winter weather.
Brownsville, Texas, reported temps of 43 degrees early Wednesday, according to KGBT. Extreme southern Texas often produces daily highs for the nation this time of year.

Watch icy roads in Dallas, Texas »
Drivers slid along icy roads Tuesday after another band of light snow and wintry precipitation coated roadways across Oklahoma, contributing to the fourth fatal traffic accident over the past two days, said CNN-affiliate KOCO in Oklahoma City. Twenty-three counties were under weather advisories early Wednesday morning.
Many roads remained icy and dangerous for traveling in central Arkansas, according to KATV in Little Rock. State offices were to remain closed until 10 a.m., and most of the state is under a freezing fog advisory until 9 p.m. Wednesday, KATV said.
WMUR in New Hampshire reported about 81,000 of Public Service Co. customers remained without power Tuesday after New England's punishing ice storm last weekend. That's bad news for residents with another round snow forecast by Friday and temperatures below freezing.

Watch the cleanup in Massachusetts »
As cold temperatures hung on, Southern California is bracing for another round of rain Wednesday morning, KTLA of Los Angeles reported. That's just one day after a winter storm bore down on the region, threatening mudslides in recent burn areas and collapsing the roof of an occupational school.

Watch collapse of school roof »
According to the National Weather Service, heavy snow is possible in eastern Arizona and western New Mexico.
So where was any escape from the cold and dangerous weather?
If you could put up with a little fog and drizzle, WSB in Atlanta, Georgia, reported 63 degrees. The forecast for Thursday: An unseasonable and enviable 72 degrees.
E-mail to a friend

All About Winter Weather • Montana • New Hampshire • Iowa • New York City • California