From David McKenzie
CNN
MOLO, Kenya (CNN) -- The thought of going home terrifies Sarafina Nyambura.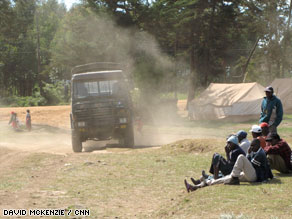 An army truck arrives at a displaced camp in Molo. Thousands of Kenyans have not returned home.
She was attacked, beaten and forced from home in the violence that convulsed Kenya after a disputed election nearly five months ago. The violence ebbed after a power-sharing deal signed February 28, but Nyambura and at least 200,000 others remain displaced despite calls for them to return home.
She has decided to stay in a camp for displaced people, haunted by the memory of what uprooted her.
"I'm not happy at all," she said. "Since we heard that people are going back home, I can't sleep because of what we saw."
A wave of bloodshed swept across central and western Kenya after a December 27 election between President Mwai Kibaki and Raila Odinga, leader of the opposition Orange Democratic Movement. The violence soon took on ethnic overtones, pitting members of the president's tribe, the Kikuyu, against members of Odinga's Luo tribe and other minority groups.
Attackers shot, beat and stabbed. They burned homes and shops.
More than 1,000 people were killed and 350,000 displaced, according to the Kenyan Red Cross.
After weeks of negotiations -- mediated by former U.N. Secretary General Kofi Annan -- the two sides reached a power-sharing deal: Kibaki would retain the presidency while Odinga became prime minister. A new cabinet took office in April, with equal representation from both sides.
Violence subsided.
Don't Miss
Yet suspicion lingers among the estimated 200,000 to 260,000 who fled their home but have not yet returned, said Anthony Mwangi, a spokesman for the Kenyan Red Cross.
About half of the displaced live in one of 130 camps for the internally displaced -- run by the Red Cross -- while most of the others live with friends or relatives or have started anew away from their hometown, he said.
Many have declined to return home for fear of the people who drove them out in the first place.
"They're not comfortable living next door to the neighbor who burned down their house," Mwangi said. "All their property was destroyed. When they go back home, their place has been cleaned out."

Watch Kenyans explain why they don't want to go home »
Many thousands of the displaced are in Kenya's Rift Valley, where land disputes have periodically raged since Kenyan independence in 1963. Though some of the displaced are land owners, a large number are share croppers or casual laborers. Many don't even know if their landlords will have them back -- and yet they are being pushed to leave.
To help those who do return, the Kenyan Red Cross offers a tent, clean water, sanitation facilities and one month's worth of food -- staples that include beans, cooking oil and maize.
The Red Cross is trying to raise about $25 million to help returnees settle in back home. It also plans to use some of that money to care for those in displaced persons camps, where malaria and pneumonia are an increasing concern.
"We don't have sufficient resources," Mwangi said.
In addition, the Kenyan government recently announced plans to raise several hundred million dollars to help displaced people return home, according to Mwangi and news reports.
Yet many in the camps say they're reluctant to leave.
"We're being hurried by the government to leave," said one woman, Seripha Nyawira. "Some have even left without knowing where they're going."
Katee Mwanza, a district commissioner, said the displaced can remain in the camps.
"We have told them if they feel uncomfortable going back to their farms, they are free to stay there until they feel it is safe," he said.
So why don't more people go home now that Kenya has reverted to its traditional role as an island of relative peace, stability and economic growth amid other East African nations plagued by chronic violence?
An answer emerges during a foray into the vast Rift Valley, in a place where the road bisects two tribal regions. On one side of the road live the Kikuyu. On the other side live members of the Kalenjin tribe.
People who live on opposite sides of the pavement say they stay on their own side for fear that long-standing animosity between the tribes will erupt into violence.
"They can kill us," one man said, "if we cross the road."
Violence that reflects such simmering sectarian tensions erupted in the Rift Valley town of Nausummit on Friday, according to a local journalist. Arsonists burned down a primary school store building, and that sparked clashes between returning displaced Kikiyu and Kisii people and Kalenjins. One person, a Kikiyu who recently returned home, received a machete wound.
E-mail to a friend

CNN's Mark Bixler contributed to this report
All About Great Rift Valley