By Alan Duke
(CNN) -- Violence and intimidation targeting Zimbabwe's opposition party -- the Movement for Democratic Change (MDC) -- has "extinguished any chance of a free and fair" runoff election, according to a Human Rights Watch (HRW) report.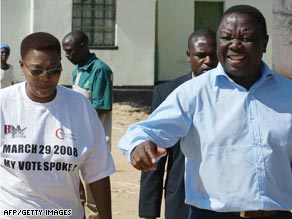 Opposition leader Morgan Tsvangirai, right, has found it hard to campaign freely in Zimbabwe.
The report, issued Monday, estimated that 2,000 people have been tortured and 36 killed in recent violence aimed at keeping voters from casting ballots for MDC presidential candidate Morgan Tsvangirai in the June 27 runoff against President Robert Mugabe.
"If current conditions are maintained, there is no possibility of a credible, free and fair poll," the report said.
A spokesman for Zimbabwe's government called the HRW report "one sided" and insisted the government did not tolerate violence.
"We don't want to rule a country full of people with scars from the election," said Bright Matonga, who is also a spokesman for the ruling Zimbabwe African National Union-Patriotic Front (ZANU-PF).
The MDC stunned Mugabe's party by winning a plurality of the parliamentary seats and a near-majority in the presidential vote on March 29.
"Since the runoff was announced the violence in Zimbabwe has gotten even worse," said Georgette Gagnon, Africa director at Human Rights Watch. "Zimbabweans can't vote freely if they fear their vote may get them killed."
HRW said the violence had been concentrated in ZANU-PF's former rural strongholds that had supported the MDC.
"Punishing 'sell-outs,' former ZANU-PF supporters who voted for the MDC, is a clear objective," the report said.
HRW said the abductions, beatings, torture, and killings had a name within Mugabe's government -- "Operation Makavhoterapapi?" -- which translated as "Operation Where Did You Put Your Vote?".
The violence was carried out by government officials and ZANU-PF supporters, the armed forces and police, war veterans and youth militia, the report said.
The report also accused the ruling party and its allies of engaging in a "campaign of looting and destruction, slaughtering animals, stealing food and property, and burning down homesteads."
"'War veterans' and youth militia have set up roadblocks and taken control of huge swathes of the countryside in order to limit the flow of information on the extent of the violence and to punish those perceived to have voted for the MDC," the report said.
The HRW report -- titled "Bullets for Each of You" -- said there was "extensive evidence of the role of senior-ranking army and police officers in inciting and organizing the violence."
It accused Police Assistant Commissioner Martin Kwainona of Mugabe's Presidential Guard of "inciting, leading, and perpetrating violence in Mt. Darwin, Mashonaland Central."
"All MDC members in Mt. Darwin must be made to disappear, we are busy training our youths to do just that," the report said Kwainona told a witness.
"President Mugabe and his government of Zimbabwe bear full responsibility for these serious crimes," Gagnon said. "They have shown gross indifference to the plight of the people, allowing senior-ranking security officers, 'war veterans,' youth militia and ZANU-PF free rein to commit horrifying abuses."
HRW said Mugabe's government was trying to strike fear in local election officials and observers. It said police had arrested more than 100 election officials on politically motivated charges of electoral fraud.
"ZANU-PF supporters have attacked hundreds of observers from the independent election organization Zimbabwe Election Support Network, forcing many to flee their homes," it said.
The report said the government was also using food distribution from international relief groups "as a tool to influence the election outcome."
HRW called on African Union (AU) and Southern African Development Community (SADC) leaders "to insist on full accountability for politically motivated crimes committed in Zimbabwe since March 29 and to call for an independent and impartial commission of inquiry into the abuses."
"AU and SADC leaders should not turn a blind eye to the serious abuses taking place in Zimbabwe," said Gagnon. "They should make it clear to Zimbabwe that they won't endorse the elections and the result unless the government takes immediate measures to end the violence and other abuses."
Matonga, the government spokesman, said there had been pre-election violence, but it was committed by supporters of both the MDC and ZANU-PF.
"The government of Zimbabwe does not condone or support any form of violence," Matonga said. "We are getting tough on violence."
"Those caught committing violence will be denied bail until the trial is complete," he said.
Matonga said the report "tends to be one-sided. They are focusing on the opposition. They are not looking at the other side."
He said HRW did not contact the government for information about what it was doing about election violence.
E-mail to a friend

All About Zimbabwe • U.S. Department of State