(CNN) -- The U.N. World Food Program, the globe's largest humanitarian agency, is cutting back its air service in Sudan because a lack of funding has made it difficult to ferry aid workers to remote parts of Darfur and the southern part of the country, the agency said Tuesday. The cutback will affect the efforts of 14,000 aid workers, it added.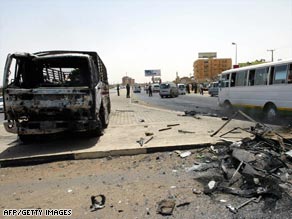 Road travel throughout Darfur has become increasingly dangerous, with aid convoys being attacked or hijacked.
The WFP said it needs an infusion of $20 million by June 15 in order to maintain full service for its Humanitarian Air Service. The agency runs the air service on behalf of all the humanitarian organizations operating in Sudan.
The air service is especially important now because road travel throughout Darfur has become increasingly dangerous in recent months. Dozens of WFP trucks have been hijacked since the beginning of the year, with some drivers still unaccounted for. At least two drivers have been killed.
"Undoubtedly, this is a blow to the humanitarian effort in Sudan," Kenro Oshidari, the WFP representative in Sudan, said in a statement. "The impact will be felt by vulnerable people who depend on the international community for crucial services."
The agency has been struggling since the beginning of the year to meet its funding goals. A contribution in May had allowed it to carry on its operations uninterrupted until now.
About a dozen rebel groups are embroiled in a seemingly intractable war against the Sudanese government that has resulted in widespread violence against civilians.
About 300,000 people have been killed and 2.5 million displaced since 2003 in unrelenting violence in Darfur.
While international attention has focused on Darfur in western Sudan, North-South tensions in the country have worsened.
A government dominated by Arab Muslims in northern Sudan fought a brutal 22-year civil war against black Christians and animists in southern Sudan. The war killed 2 million people and displaced roughly 4 million others. A 2005 peace agreement ended the fighting.
E-mail to a friend

All About Sudan • Sudan Liberation Movement • United Nations World Food Programme