HARARE, Zimbabwe (CNN) -- Millions of Zimbabweans face starvation as a result of the government's decision to suspend the work of aid organizations last week, an aid director said Saturday.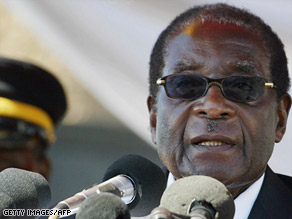 Zimbabwe's governement, headed by President Robert Mugabe, suspended the work of aid groups last week.
A "humanitarian crisis is unfolding," said Sue Mbaya, advocacy director for World Vision's Africa region. "[The] capacity of communities to cope on their own has really been eroded over the last few years."
The government ordered the suspension of all non-governmental organizations (NGOs) on the grounds that they were supporting an opposition party ahead of a bitterly contested presidential election on June 27. The agencies deny such allegations.
Members of the Movement for Democratic Change, which is challenging President Robert Mugabe, have accused Mugabe of instituting a campaign of violence and intimidation aimed at preventing the elections.
Mbaya said about 2 million Zimbabweans "urgently" relied on food that aid organizations are now prohibited from distributing.
"Our hearts are bleeding," Mbaya told CNN by phone from Nairobi, Kenya. "We know what this means for ordinary children, women and men in Zimbabwe."
Don't Miss
Some reports indicate that the order will be lifted after the runoff, but Mbaya said it could last indefinitely.
She said World Vision was in discussion with Zimbabwean authorities to try to regain access. The organization has worked in Zimbabwe for 26 years, she said, and has a good track record in the country.
"Consider a situation where people ... cannot wait another 14 days ... to have these services restored," she said of food distribution and other aid.

Watch a report on the situation in Zimbabwe »
The organization is also appealing to the African Union and to the Southern African Development Community to intervene. The group is also part of a coalition under the umbrella of the United Nations, which is also speaking to the Zimbabwean government.
"Zimbabwe's children cannot endure a winter without support," said Per Engebak regional director of the U.N. children's agency. "The level of suffering for these children increases daily."
As of last week, one UNICEF program that supports 185,000 orphans through 25 NGOs no longer operates, the agency said.
"We know the needs of Zimbabwe's children and the grandmothers and extended families who do all they can to provide for them, and we have excellent programs to assist them," Engebak said in a statement on the agency's Web site.
"But today these programs serve no one because of the current suspension of NGOs," he said.
E-mail to a friend

All About Zimbabwe • Robert Mugabe • United Nations • African Union