By CNN Senior International Correspondent Nic Robertson
(CNN) -- Life for the millions of people in Darfur's aid camps is a living hell. Women are often raped while out collecting firewood and security is so bad aid trucks can't get through, resulting in food handouts being halved.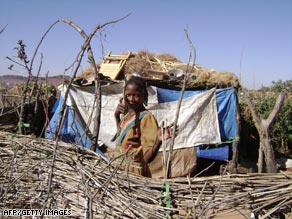 A refugee from the western Sudanese region of Darfur stands in front of a makeshift hut.
So far this year 66 trucks belonging to the U.N.'s World Food Programme have been hijacked, three drivers killed in attacks and thirty more drivers are still missing.
A United Nations peacekeeping force with the power to shoot back if attacked has been deployed in Darfur in recent months, but despite being the largest ever sanctioned by the U.N. it is undermanned and under-equipped. The troops say there is no peace to keep and their troops are being attacked.
Recently 60 militiamen on horseback raided a peacekeeping patrol, stealing soldiers' weapons, ammunition, money and even their cell phones.
The crisis in Darfur first began when rebels who are mostly ethnic African farmers attacked government outposts in 2002 because they wanted power.
The Sudanese government repressed the insurgency, bombing villages and arming nomadic Arab herdsmen, Janjaweed, who have a history of land disputes with the farmers.
In five years of war the U.N. says more than four million people have been affected: Two-and-a-half million people forced from their homes and more than 300,000 killed.
Sudanese officials dispute those numbers claiming only 10,000 have died -- a number they say is normal for five years of war.

Watch officials deny Darfur crimes »
U.S. President George W. Bush calls the killings genocide and has put sanctions on Sudan. The U.N. says Sudan's government is guilty of crimes against humanity and of violating international human rights laws every bit as heinous and serious they say as genocide.
In February 2008, a fresh wave of killing forced 58,000 people to flee their homes as government troops and Janjaweed militiamen retaliated against rebels. A U.N. report said Sudan broke international law as 115 innocent civilians were killed using tactics similar to those employed in 2003, 2004, the worst years of the war.
E-mail to a friend