HARARE, Zimbabwe (CNN) -- A judge in Zimbabwe's High Court overturned Saturday a police ban on an opposition rally scheduled for Sunday -- less than a week from the presidential runoff -- a lawyer for the opposition told CNN.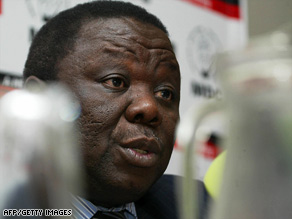 Opposition leader Morgan Tsvangirai has been detained four times while campaigning ahead of the runoff vote.
"The judge has ordered the police not to interfere with the intended rally," Alec Muchadehama, a lawyer for the opposition party Movement for Democratic Change (MDC), said of Justice Joseph Musakwa's ruling.
Police had banned the rally earlier this week, citing security concerns.
"This is good news, but it must be remembered that in the past the courts have granted us permission to hold rallies, but Zanu-PF militia has blocked us," Luke Tamborinyoka, MDC's director of information, said. Zanu-PF is the party of longtime President Robert Mugabe.
Should MDC hold the rally on Sunday, its leader, Morgan Tsvangirai, is expected to speak.
Tsvangirai will again face Mugabe in a presidential runoff set for Friday, after the March 29 election resulted in a standoff.
Though reports of violence are not uncommon in Zimbabwe, there has been a rise in attacks since those elections.
There have been numerous reports from the opposition and church groups about kidnappings, torture and other violence, including the deaths of opposition party members.
Don't Miss
They say the violence targets opponents of Mugabe and his Zanu-PF party.
Pre-runoff election violence has killed about 70 MDC supporters, according to the party, which says that more than 30,000 people have been displaced.

Learn more about Zimbabwe »
Tsvangirai and other MDC members have also been detained several times in the weeks leading up to the runoff election.
On Friday, Mugabe, speaking to a rally in Bulawayo, said the MDC was compiling names of alleged victims of political violence.
"They have been saying their supporters are being beaten up by our soldiers. They say this so that they can later say the elections were not free and fair. Which is a damn lie!," he said, according to the state-run Herald newspaper.
"People are campaigning, yes, but we are campaigning in peace," he said.
E-mail to a friend

All About Zimbabwe • Robert Mugabe • Morgan Tsvangirai