JOHANNESBURG, South Africa (CNN) -- Nobel peace laureate Desmond Tutu labeled Zimbabwean President Robert Mugabe "Frankenstein" and called for other countries to intervene before the country descended into bloodshed.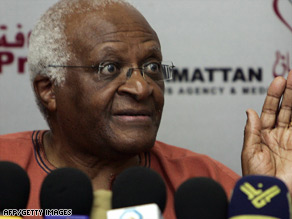 Desmond Tutu has labelled Zimbabwe President Robert Mugabe a "Frankenstein for his people"
International military action against Mugabe's regime, however, is unlikely, said Australian Foreign Minister Stephen Smith. And Friday's runoff election in the country will go on "no matter what," said the U.S. ambassador in Zimbabwe.
Tutu -- speaking from Capetown, South Africa -- told Australian television that Mugabe has disappointed many who held him in high regard for his role in liberating the country from "the shackles of colonialism."
"He has, I mean, mutated into something that is quite unbelievable," Tutu said late Tuesday. "He has really turned into a kind of Frankenstein for his people."
Mugabe, 84, has been Zimbabwe's only leader since it gained independence from Britain in 1980. Frankenstein is the name of the scientist in a Mary Shelley novel who creates a monster in the likeness of man. Over the years, popular culture has taken to referring to the creature itself as "Frankenstein."
Tutu, the Anglican Archbishop of Cape Town, urged international intervention to curb the violence and harassment leading up to a runoff vote in Zimbabwe.
"I just hope I mean that we don't wait until it is too late," he said. "You know, Rwanda happened despite all the warnings that the international community was given. They kept holding back and today we are regretting that we did not, in fact, act expeditiously."
An ethnic cleansing campaign in Rwanda in 1994 led to the deaths of more than 800,000 people, according to the United Nations.
Zimbabwean opposition leader Morgan Tsvangirai has called for armed international peacekeepers to secure a new presidential election in his country.
But international military action against Zimbabwe's regime is unlikely, Australian Foreign Minister Stephen Smith told reporters. He instead urged other southern African nations to put pressure on Mugabe to step down.
Don't Miss
"I don't think that the international community will move in the first instance or quickly or necessarily at all to military intervention in Zimbabwe," Smith said Tuesday.
"We've been arguing for some time and we repeat the argument that the primary responsibility here has to fall upon Zimbabwe's neighbors."
The U.N. Security Council has unanimously condemned the Zimbabwean government for the campaign of violence and intimidation, but stopped short of calling for a postponement of the runoff or for a new election.
Mugabe has said Friday's vote would take place as planned.
James McGee, U.S. ambassador to Zimbabwe, said Mugabe's ZANU-PF party intends to force people to vote even though Mugabe will be the only candidate on the ballot.
"So they're saying 'We want an election at all costs. We want to validate Mr. Mugabe's victory here," McGee said Tuesday. "There's really nothing that we can do here in the international community to stop these elections."
Zimbabwean opposition leader, Tsvangirai, won the most votes in the March 29 election but failed to gain a majority. He formally withdrew Tuesday from the runoff, citing violence against party members.
Legal experts in Zimbabwe, however, have said he cannot legally withdraw from the runoff; the Electoral Commission is to meet Wednesday to discuss the matter, the state-run newspaper Harare Herald reported.
Speaking to CNN on Tuesday from the Dutch Embassy in Harare, where he has been granted refuge since Sunday, he said, "This is total war and we cannot be part of that war.

Watch Tutu's full interview »
"This is not an election," he said. "The conditions are just horrendous."
He added, "I've been arrested, I've been brutalized -- this is not exaggeration. This is reality here."
Mugabe's government has denied responsibility for the violence in Zimbabwe, instead blaming supporters of Tsvangirai's own Movement for Democratic Change party.
"He's frightened, frightened of the people," Mugabe said of Tsvangirai at a rally Tuesday. " ... Seeking refuge? What for?"
E-mail to a friend

All About Zimbabwe • Robert Mugabe • Morgan Tsvangirai • Archbishop Desmond Tutu • Rwanda