By CNN Senior International Correspondent Nic Robertson
(CNN) -- When we got our visas for Sudan I was excited. We'd been trying for 10 months to be let into the country. I hadn't been for two years and these days it's rare any journalist gets access to what I think is becoming one of the most under reported big stories of the decade: Darfur.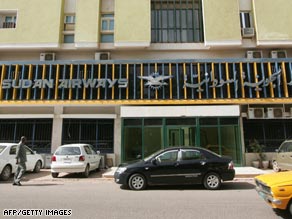 Khartoum is showing superficial signs of prosperity, but problems remain.
Some 300,000 people have been killed there over the past five years, the U.N. says -- more than were killed during the war in Bosnia. For the living, a miserable existence. More than half the people in the region -- slightly larger than France -- live in makeshift shelter in aid camps.
I knew from past experience our challenges still lay ahead. The visa would get us as far as the capital Khartoum, but after that we'd have to go to the External Information Council to get permission to go to Darfur. That could take weeks.
My real worry was that it wouldn't come through at all. But I drew some comfort from the fact that I already knew some of the officials we'd be dealing with, from previous visits, and they'd always been courteous and helpful.
True to form when we landed in Khartoum, at about one in the morning, Osman from the External Information Council was there to help get our gear through customs. A most welcome sight.
Traveling with TV equipment is never easy, but in a country where senior government officials blame reporters for misrepresenting the facts it can mean hours lost wading through red tape and bureaucracy. No fun if you've just come off a long flight and it's the middle of the night. In this case, Osman worked his magic and we were through in an hour.
As we drove into the city, I was looking to see what had changed in the past two years. The burnt-out Mercedes at the side of the road wasn't a good sign. But a little further on, we spotted on garbage collectors picking up trash. Garbage collectors! It made me think the economy couldn't be doing too badly. Then we began to pass shiny new stores selling household appliances and motor cars. This was a big change.
I'd heard the capital was benefiting from oil dollars beginning to flow in to the country; now I was seeing for myself. But beyond the superficial prosperity, the streets were still potholed, and the bedraggled yellow taxis clanking along them dented, missing windows, ready to fall apart. In that respect it was just as I'd last seen it, with petro-dollars yet to trickle down the food chain.
It was the same at the External Information Council -- little change since 2006. Osman and the other staff were as charming and helpful as ever and the building, a former bank, as rundown and disheveled and neglected as before.
We were ushered in to a room and offered sweet tea, the first of many. It was hot and I was sweating. Not just because of the heat, I was also worried we wouldn't get our permission to go to Darfur.
Osman's colleague, Mai, who seemed to be in charge of us, had a plan. Interior Minister Ibrahim Mahmoud Hamid was holding a press conference and we should rush over there. It seemed like a good idea. He'd just returned from Darfur, so at least we'd hear the government's view of what was happening there.
E-mail to a friend

All About Darfur