By CNN Senior International Correspondent Nic Robertson
(CNN) -- After visiting Al Fasher, and when the airport finally opened for U.N. traffic we took the air long UNAMID flight to Al Geneina in west Darfur, about 40 minutes drive from the border with Chad.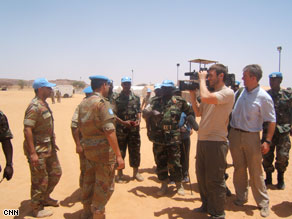 CNN's crew films U.N. peacekeepers in Darfur.
You see the craziest of things in Darfur's airports. U.N. aid helicopters parked side-by-side with Sudanese helicopter gunships and their Antonov planes laden with bombs.
Al Geneina was no exception, as we bumped along the dirt airstrip we could se government troops digging in around the airfield.
Once again great shots if we were allowed to film it. We weighed up the options, shoot it, get caught, our tapes confiscated and us thrown out, or take note for later.
We chose the latter. Discretion, my parents taught me, is the better part of valor. And when you're talking about your colleagues' safety, never more so.
The troops around the airport had clearly only just arrived. Rumors were already rife Sudan was going to back Chadian rebels in a retaliatory strike on the capital N'Djamena, by way of payback for Chad's support for a Darfur rebel attack on Khartoum a week earlier.
Without reinforcements Al Geneina airport would be vulnerable. Already heavy anti-aircraft guns were embedded in sand bag pits.
It felt weird. Al Geneina is an aid hub for almost a million displaced people but here the government was gearing up for war. It made me wonder: What if these soldiers were used to make Darfur safe? Then many of the people in the camps could go home.
We were in for another shock when we got to the U.N. compound -- a security briefing. Aid groups were seeing a massive increase in violent vehicle hijackings.
The humanitarian community here had got used to the seasonal fluctuations in car theft. This year it was different. Armed bandits were operating in broad day light stopping and stealing the white U.N. and relief organization pick-ups and SUVs. Not just now and again, sometimes several in one day.
Our hosts wanted to make sure we were ready for any eventuality. They told us in the past couple of weeks the situation had deteriorated even more. Bandits were breaking into their compounds at night to steal vehicles.
It had never been this bad before. Two nights before we arrived, a guard was shot and killed in a compound about a hundred meters from where we would stay.
Once again, I found myself thinking about the government soldiers at the airport, what if they were redeployed to secure the town. It wasn't that big.
Our U.N. hosts took very good care of us, good people trying to do a good job in tough situation. They wouldn't call themselves brave, I would. Our private dinnertime conversations can't be reported but it's clear they are incredibly frustrated with Sudanese officials.
As they took us to camps they were at pains to point out some Sudanese humanitarian officials are more enlightened than others, better educated, in some cases well meaning towards the displaced people.
Indeed, when I sat down with one such official, I was surprised he even criticized the federal government in Khartoum for not understanding how to deal with the crisis they've created.
Having said that though he told me there was little he could do about without being accused of being a spy.
He didn't say it but we found out later that while he works for a humanitarian department, many of his junior staff are employed by Sudan's National Intelligence office.
They have far more power than he does. Indeed one of them was assigned as a "minder" to follow us around, take notes on what we did and even try to take our notes.
It reminded me of reporting in Iraq under Saddam Hussein's regime. People to spy on us and people to spy on officials.
E-mail to a friend

All About Darfur