By CNN Senior International Correspondent Nic Robertson
(CNN) -- What surprised me the most about the aid camps is the sheer fortitude of the people. Fires burning down the flimsy straw shelters is a common occurrence here.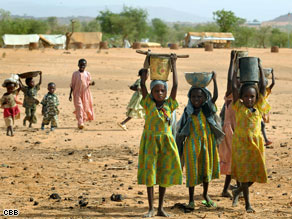 Refugee girls pose for a picture at a camp in Darfur.
Almost every camp we went to had a large swath of charcoal debris that had once been homes for dozens of families. When I asked how they'd cope, the answer I got was: We'll rebuild slowly.
One man told me it would cost him $10,000 to get back what he lost in a just such a fire. I asked how long would that take, he told me the small fields he'd managed to plant around the camp could bring him as much as $2,000 a year. He had two wives and nine children.
The government says most people want to go home. They are right.
The man who lost his hut in the fire told me his real home was only about 60 kilometers away. He desperately wanted to sneak back to his fields there and plant some crops but he was just too afraid.
At this level I'm tempted to think the problems are easy to fix. Many other people in the camp came from the same place. Just send a few soldiers, U.N. peacekeeping force UNAMID or Sudanese to watch over the place. The camp would empty in no time.
I suppose in many ways the solutions could be simple, but it's going to require everyone to give up something and of course that's the point. Neither the rebels nor the government show any inclination to do that and to get them to that point is very complex indeed.
We only had a tiny snapshot of what was happening, and I'm no expert, but as things look now without international pressure on all sides the suffering and the killing in Darfur will not end.
As we stood at Al Geneina airport waiting to leave a week later I was told just a couple of miles away an armed UNAMID peacekeeping patrol had been ambushed the day before by 60 armed men on horse back.
The peacekeepers had their weapons, ammunition, money and even mobile phones taken by what appeared to be Janjaweed, the Arab militia armed by the government.
We'd heard reports even some Janjaweed units were rebelling against the government as authorities tried to take the most vicious off their payroll. I wondered could this group have been freelancing for extra cash? But then I only had to look around me to get part of the answer.
Even more uniformed and armed Sudanese troops were securing the airfield than the previous week. Where had they been, what had they been doing while the peacekeepers were attacked just a couple of miles away.
At that moment I couldn't help but think, what is happening, doesn't the international community care? Don't they see what's going on?
E-mail to a friend

All About Darfur