(CNN) -- The chief prosecutor of the International Criminal Court has filed genocide charges against Sudanese President Omar Hassan al-Bashir for a five-year campaign of violence in the country's Darfur region. CNN's Nic Robertson explains what is likely to happen next: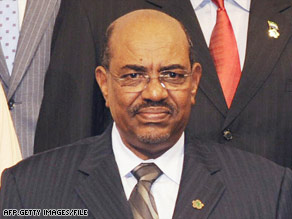 President Al-Bashir was indicted for masterminding attempts to wipe out African tribes in Darfur.
Q. Is al-Bashir likely to face arrest?
A. Before President al-Bashir can be arrested an arrest warrant has to be issued and right now that is what is being considered by the ICC judges to whom prosecutor Luis Moreno Ocampo presented his case. So far in all 11 cases Moreno-Ocampo has presented the judges have never refused a request. All three judges considering President al-Bashir's case are women, Akva Kuenyehia from Ghana, Sylvia Steiner from Brazil and Anita Usacka from Latvia and could take from several weeks to several months to reach a conclusion. However, even if they do issue an arrest warrant for President al-Bashir it doesn't mean he'll be coming to The Hague anytime soon.
Sudan refuses to recognize the legitimacy of the ICC, and has made no efforts to hand over two previous indictees. Nevertheless once an arrest warrant is issued President al-Bashir would be at risk of arrest whenever he travels overseas. Prosecutor Moreno-Ocampo says he is confident the Sudanese president will ultimately be put behind bars.
Q. Is the international community obliged to arrest him?
A. The short answer is not necessarily. The longer answer is those 106 countries that support the ICC and -- that is -- those are signed up to the treaty known as the Rome Statutes of the International Criminal Court are expected to. Other states, so called non-states parties will have more a moral and less of a legal obligation, however the ICC can make deals with non-states to make an arrest. For the list of 106 countries supporting the ICC go to the ICC Web site.
International organizations can also provide support to the ICC. In 2004 the U.N. formally agreed to give judicial assistance to the ICC.
Q. What jurisdiction does the ICC have?
A. The ICC has jurisdiction to investigate wherever the United Nations directs it to investigate. However the ICC "will not act if a case is investigated or prosecuted by a national judicial system unless the national proceedings are not genuine" according to the ICC's Web site.
Q. Does the ICC enjoy the backing of all major powers?
A. In a word, no. The United States for example is not one of the 106 states parties of the Rome Statutes. Russia and China are also non-signatories too.
Q. How will the move affect the situation in Darfur?
A. One of the immediate impacts has been that many western aid workers have been pulled out of Darfur. Food distribution and health clinics can continue up to a point but their smooth operation and ability to help the needy will soon be felt. U.N. peacekeepers are also on restricted operations limiting the small amount of stability they were able to offer.
There is serious concern from some diplomats, notably Russian and Chinese that indicting President al-Bashir will harm Darfur's fragile peace process by emboldening rebels to feel thy can hold out for better terms. The reality is the peace process in Darfur is stagnating, the rebels are divided and are further from a deal than they have ever been and the government too is far from finding compromise.
Some diplomats, mostly European argue putting pressure on Sudan is the only tactic that has brought them close to agreeing a peace deal in Darfur.
Whichever way it is argued, the 2.5 million people in the camps have no hope of a return home. The longer they are left languishing with food cut by half due to attacks on food convoys and under the permanent threat of rape, the more desperate they feel.
E-mail to a friend

All About Sudan • Genocide • Darfur • International Criminal Court