(CNN) -- Human rights activists said Tuesday they feared a move by the chief prosecutor of the International Criminal Court to file genocide charges against Sudan's president could provoke a violent backlash.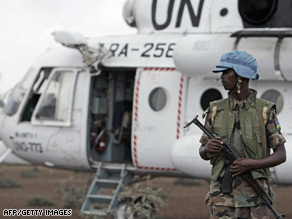 A Rwandan soldier serving with the U.N.-African Union peacekeeping force in Darfur guards a U.N. helicopter.
The 10 charges -- three counts of genocide, five of crimes against humanity and two of war crimes -- filed against President Omar Hassan al-Bashir include masterminding attempts to wipe out African tribes in Darfur with a campaign of murder, rape and deportation.
The indictment marks the first time prosecutors at the world's first permanent war crimes tribunal have issued charges against a sitting head of state, but al-Bashir is unlikely to face trial in the immediate future.
Chief prosecutor Luis Moreno-Ocampo urged judges to issue an arrest warrant for al-Bashir to prevent the deaths of 2.5 million refugees who remain under attack from government-backed Janjaweed militia.
About 300,000 people have already died in Darfur, the United Nations estimates.
But Sudan's anger over the charges could scupper talks to resolve the decades-old rivalry between north and south Sudan as well as efforts by an understaffed joint U.N.-African Union peacekeeping force (UNAMID) to protect refugees, a rights group said Tuesday.
"The prosecutor's legal strategy ... poses major risks for the fragile peace and security environment in Sudan, with a real chance of greatly increasing the suffering of very large numbers of its people," the Brussels-based International Crisis Group said.
"These are significant risks, particularly given that the likelihood of actually executing any warrant issued against al-Bashir is remote, at least in the short term," it added.

Watch as ICC prosecutor targets al-Bashir »
Concerns rose when a senior Sudanese parliamentarian warned Monday that his country could not guarantee "the safety of any individual."
"The U.N. asks us to keep its people safe, but how can we guarantee their safety when they want to seize our head of state?" Mohammed al-Hassan al-Ameen said on state TV, according to The Associated Press.
The U.N. has said it is evacuating non-essential staff from Darfur "due to the recent deteriorating security situation," but UNAMID vowed to maintain its operations, despite last week's killings of seven peacekeepers.

Watch a tour of Darfur's deserted Northern Corridor »
U.N. Secretary General Ban Ki-Moon said Monday he "expects that the government of Sudan will continue to cooperate fully with the United Nations in Sudan, while fulfilling its obligation to ensure the safety and security of all United Nations personnel and property."
The ICC has no enforcement arm and relies on governments to act as its police force. The judges are expected to take three months to decide whether to issue an arrest warrant, although they have approved all 11 of Moreno-Ocampo's previous submissions to the court.
At a news conference Monday in Khartoum, Sudanese Vice President Ali Osman Mohammed Taha rejected the authority of the ICC, saying Sudan was not a signatory to the court's creation.
"Hence there is no legal obligation or power over Sudan, whether Sudanese organizations or citizens," he said.
Taha also called the charges an attempt to "paralyze" his country. And Abdalmahmood Abdalhaleem Mohamad, Sudan's ambassador to the United Nations, said his government would respond through legal, political and "other means."
"The limit is the sky for our retaliation," he said.
He said the country was not mobilizing its military, but has been organizing demonstrations in support of al-Bashir.
However in New York, Sudan's ambassador to the United Nations, Abdalmahmood Abdalhaleem Mohamed, told The Associated Press that al-Bashir, who has ruled Sudan for 19 years, was weighing all options, including a military response.
Al-Bashir may attend the U.N. General Assembly in New York in September, and Sudan would consider any attempt to arrest him a declaration of war, Mohamed said.
The alleged crimes against al-Bashir stem from a brutal counter-insurgency campaign the Sudanese government conducted after rebels began an uprising in Sudan's western Darfur region in 2003.
The authorities armed and cooperated with Arab militias that went from village to village in Darfur, killing, torturing and raping residents, according to the U.N., western governments and human rights organizations. The militias targeted civilian members of tribes from which the rebels draw strength.
Despite international condemnation of those atrocities, achieving unanimous backing in the U.N. Security Council for action against Sudan is unlikely to succeed since two of its permanent members, China and Russia, are Sudan's allies.
"China expresses great concern and worry about the ICC's prosecutor's accusation against Sudanese leaders," Foreign Ministry spokesman Liu Jianchao said at a regular media briefing reported by AP. "The ICC's move should be conducive to safeguarding the stability of Sudan's situation and the proper resolution for the Darfur region rather than the contrary."
The United States is also reluctant to take steps that lend legitimacy to the ICC, whose jurisdiction it has questioned. The Bush administration refused to join the ICC due to fears that American servicemen overseas could face politically motivated prosecutions.
E-mail to a friend

CNN's Nic Robertson contributed to this report.
Copyright 2008 CNN. All rights reserved.This material may not be published, broadcast, rewritten, or redistributed. Associated Press contributed to this report.
All About Sudan • Genocide • Darfur • International Criminal Court