ACCRA, Ghana (CNN) -- A Zimbabwean journalist has won the prestigious CNN-sponsored African Journalist of the Year competition for an uncompromising documentary examining his troubled country's struggle against HIV-AIDS.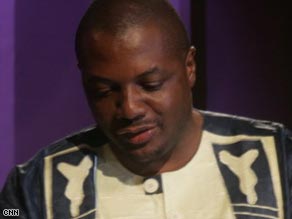 Hopewell Rugoh-Chin'ono said his award would help improve journalistic standards in Zimbabwe.
Hopewell Rugoh-Chin'ono's "Pain in My Heart" garnered him top prize at this year's CNN MultiChoice African Journalist 2008 Awards Ceremony after beating 1911 entries from a record 44 nations across the continent.
Rugoho-Chin'ono was one of 23 finalists at the awards ceremony on Saturday evening and was also the category winner in The Henry J. Kaiser Family Foundation Award for Excellence in HIV-AIDS Reporting in Africa.
Ghana's President John Agyekum Kufuor presented Hopewell with the award at an event in Accra attended by CNN International's Managing Director Tony Maddox.
Don't Miss
"The recognition this award gives me goes a long way to improving journalistic standards for many colleagues who are working under very difficult conditions," Rugoho-Chin'ono said on receiving the award.
"It is a huge honor and commitment and I will do my best to meet the expectations of my peers. I dedicate the award to all those struggling to be recognized, and I salute the ongoing challenge to achieve excellence across the African continent."
Maddox said the awards, now in their 13th year, had "unearthed a wealth of voices from around Africa, each demonstrating a quality of journalism, and in some cases a resourcefulness and bravery in pursuing the story which has my deepest admiration."
Highlights from the awards will broadcast on CNN's Inside Africa at the following times:
Saturday, 26 July: 1630 and 2330 (All regions)
Sunday, 27 July: 1300 (Europe/Latin America only)
All times GMT
.
E-mail to a friend