(CNN) -- A Nigerian militant group issued a statement Wednesday saying it will destroy major oil pipelines "within the next 30 days" to disassociate itself from a government pipeline protection deal.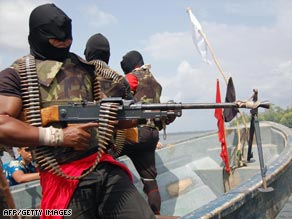 Nigerian militants have played havoc with oil production in the Niger Delta in the past.
The Movement for the Emancipation of the Niger Delta, or MEND, issued the statement. It has been blamed for a number of attacks on the African country's oil industry.
The group issued a statement disassociating itself from the Nigerian National Petroleum Corp. claim of a payment of $12 million to militants for "pipeline protection."
"MEND is aware that huge payments have been made to some criminal gangs in Delta state as a protection fee," the group said in an e-mail statement.
"This gang is not a genuine part of the Niger Delta agitation for justice but a front for the Delta state governor for such extortions. They cannot be labeled as militant freedom fighters."
The MEND statement said it "will never sell its birthright for a bowl of porridge when the impoverished masses in the region continue to live in abject poverty."
To prove that it is "not a part of this deal, the Chanomi creek pipeline (in Delta State) and other major pipelines will be destroyed within the next 30 days."
MEND has bombed pipelines and kidnapped hundreds of foreign oil workers, typically releasing them unharmed, sometimes after receiving a ransom payment.
The rebels hope to secure a greater share of oil wealth for people in the Niger Delta, where more than 70 percent of the population lives on less than $1 a day while oil pumped from the region has brought riches to the government, the group says.
E-mail to a friend