HARARE, Zimbabwe (CNN) -- After several hours of power-sharing negotiations, Zimbabwe President Robert Mugabe and opposition leader Morgan Tsvangirai adjourned the talks early Monday -- apparently without reaching a deal.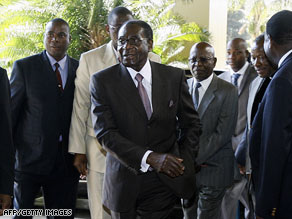 Zimbabwe President Robert Mugabe, center, arrives at a Harare hotel for Sunday's talks.
The talks were scheduled to resume Monday at 2 p.m. (8 a.m. ET).
"We have not finished," Mugabe told reporters after the meeting adjourned. "We obviously have sticking points like in any talks, but we look forward to overcome them."
Tsvangirai, head of the Movement for Democratic Change, deferred questions to South African President Thabo Mbeki, who mediated the meeting. Mbeki did not immediately comment on the talks.
Sunday's face-to-face meeting by Mugabe and Tsvangirai was the first between the two since power-sharing talks began two weeks ago, sources close to the talks said.
On Saturday, sources close to the negotiations said a power-sharing deal was just "one or two sticking points" away.
They did not specify what the issues dividing the two sides were.
Don't Miss
After Mugabe's re-election in a June presidential runoff, which was condemned internationally as a sham, the two leaders reached an agreement on July 21 that paved the way for power-sharing talks.
Tsvangirai garnered the most votes in the March general election, but not enough to avoid a runoff, according to the government's official count.
He withdrew from the June 27 runoff days before the vote, saying Mugabe's supporters orchestrated a campaign of beatings, intimidation and murders against his supporters.
However, on Thursday, the MDC and Mugabe's ZANU-PF party released a joint statement acknowledging both bore responsibility for the politically motivated violence that engulfed the country after the disputed March election.
The statement called on their supporters to "stop and desist" from carrying out further violence.
"We further reaffirm our commitment to ensuring that the law is applied fairly and justly to all persons irrespective of political affiliation, to take all necessary measures within our power to eliminate all forms of political violence, including by non-state actors, and to ensure the security of persons and property and provide support to victims of violence," the statement said.
Zimbabwe saw unprecedented violence between the March 29 election and the runoff. The MDC claimed ZANU-PF killed about 100 of its supporters.
E-mail to a friend

All About Zimbabwe • Robert Mugabe • Morgan Tsvangirai