JOHANNESBURG, South Africa (CNN) -- A summit of regional leaders in South Africa ended Sunday with no agreement to end Zimbabwe's political crisis.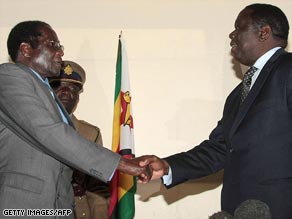 Robert Mugabe (left) and Morgan Tsvangirai met last month for the first round of talks.
But the leaders said they believe there is a basis for a power-sharing deal, and called on both sides to sign it.
South African President Thabo Mbeki, the lead Zimbabwe negotiator for the 14-member Southern African Development Community (SADC), said the group wants Zimbabwe's government leaders and opposition to "conclude the negotiations ... as a matter of urgency."
"It's clearly not possible to say when negotiations will be concluded," he told reporters after the summit. "It's a matter of negotiating parties reconvening."
SADC did not give a cut-off date, he added.
Don't Miss
As the meeting began Saturday, hundreds protested outside, angry at the inclusion of Zimbabwe's President Robert Mugabe.
They called on SADC not to recognize Mugabe as a head of state after June's widely discredited presidential runoff that returned the longtime president to power.
Opposition candidate Morgan Tsvangirai had pulled out of the run-off citing political violence and intimidation.
Botswanan President Ian Khama boycotted the summit, saying he considers Mugabe's presidency illegitimate.
E-mail to a friend

CNN's Nkepile Mabuse contributed to this report.
All About Zimbabwe • Robert Mugabe