(CNN) -- Professor Wangari Maathai was the 2004 Nobel Peace Prize winner and founder of the Green Belt Foundation, a Kenyan environmental organization.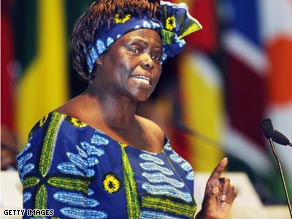 Wangari Maathai, 2004 Nobel Prize winner and founder of the Green Belt Movement
When she took part in the Principal Voices in 2006, she explained that everyone must play their part in conserving the environment. CNN caught up with her to find out what has changed since she took part in Principal Voices.
CNN: In your White Paper you talked about the need for governments and individuals to promote climate protection programs. What have you observed in the last few years?
Wangari Maathai: There is a lot of awareness globally. In Kenya right now, the biggest concern is water. People are moving to the cities and therefore the demand for water is high. It is being rationed and people appreciate that. But the government isn't doing anything to protect it.
Last week, there was an exhibition on environmental awareness [in Nairobi]. Different government departments showed how they were combating the issue. There is awareness that this is a cross-country issue. I was very happy... especially since the minister for environment is championing the issue.
CNN: A recent report in the United Kingdom says we may have to look at extreme technical solutions such as blocking out the sun to tackle global warming. Do you think things will get worse before the issue is taken seriously?
WM: Global warming is only understood by few people in any country. We take our natural resources like soil and water for granted. There is no linkage between resources and livelihood yet, so when the reality of depletion hits home, people will regret it.
CNN: What is the next big green project you and the Green Belt Movement will tackle?
WM: The project I am working on now touches on global warming. I have been appointed the goodwill ambassador for the Congo Forest Basin because Africa needs the forest to balance the ecosystem. Already there is a lot of stress on the forest from timber logging and mineral exploration.
The governments of Britain and Norway have helped establish the Congo Forest Basin Fund -- they have donated an estimated $100 million for the project, which was launched in London in June. I hope more governments and corporations will help with the initiative.
CNN: Did your experience on Principal Voices produce any ideas you've put into action?
WM: Well, I have continued very much on the same lines [as the ideas outlined in Wangari Maathai's white paper]. People need to understand the link between how we live in political spaces and diverse culture. This has been my focus for the last 30 years and I have succeeded in expanding my work and experience.
E-mail to a friend