(CNN) -- Islamist fighters battling for control of Somalia have threatened to close Mogadishu's only airport, warning all airlines to stop flights into the Somali capital by early Tuesday.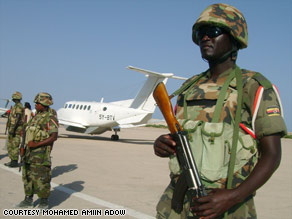 African Union peacekeepers keep guard recently at the international airport in Mogadishu, Somalia's capital.
"Any plane which uses or lands at the airport, we will consider it a military plane and we will not be held responsible for what happens to it," the Al-Shaabab militia said in a Web posting. The statement said the airport would be closed at 1 a.m. Tuesday (6 p.m. ET Wednesday).
The statement was posted on www.kataaib.net, a Web site frequently used by Al-Shaabab. A graphic posted along with the statement shows a plane about to land at Mogadishu's international airport. As the plane approaches, a man with a shoulder-fired missile appears and a red-circle target is placed over the plane. The Somali word for "Warning!" flashes at the same time.
Nairobi, Kenya-based Daallo Airlines, which operates flights four times a week into Mogadishu, is "monitoring the situation," the company's chief executive officer told CNN.
"We haven't received any warning directly," Howard Leedham said. He said he was made aware of Al-Shaabab's warning through the local media, and would not say if any of the four weekly flights would be canceled or rescheduled as a result.
"All I can say is we're monitoring the situation very closely," Leedham said. "We have employees down there, and so we're monitoring the situation."
Maj. Barigye Ba-Hoku, a spokesman for African Union forces in Somalia -- many of whom are based at Mogadishu's airport -- said he has not received an official warning from Al-Shaabab about the airport's closure, but "we take the warning seriously."
"We have taken precautionary measures, but that's all we can do," Ba-Hoku told CNN.
Al-Shaabab is an Islamic militia that has launched a bloody battle to seize control of Somalia and oust Ethiopian forces, which are helping Somali government forces try to rout the Islamic fighters.
It is a splinter group of the Islamic Courts Union, which pushed out Somalia's transitional government in 2006. The ICU was deposed in December of that year following Ethiopia's military intervention.
In its statement, Al-Shaabab said it has been forced to shut down the airport because it is being used by a variety of "infidel forces," including Ethiopia, Burundi, and Uganda. Burundi and Ugandan forces make up the bulk of the AU mission in Somalia.
Al-Shaabab also said U.S. and Israeli security officials "regularly" land at the airport.
"So based on all these issues, we -- Al-Shaabab fighters -- are notifying all business people in Mogadishu, particularly to those of the airlines, that the airport is officially closed from the date on 16th September," it said.
E-mail to a friend

Journalist Mohamed Amiin Adow contributed to this report.
All About African Union • Ethiopia • Somalia