CAIRO, Egypt (CNN) -- Some of the 11 European tourists and their Egyptian guides kidnapped 10 days ago and released unharmed Monday have left an Egyptian hospital and are headed home, officials said.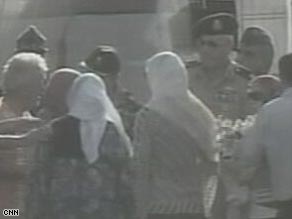 A picture from television footage of the hostages landing at an Egyptian military base.
Most of the five Germans, five Italians and one Romanian will have left the country by Tuesday, said Egyptian Tourism Ministry spokeswoman Omayma el-Huseini.
They were shown on Egyptian TV on Monday arriving at a military base near the capital, Cairo. Some clutched bouquets of flowers as they stepped off a military aircraft.
They were taken to Maadi Military Hospital for a checkup, but the Ministry of Tourism said earlier the tourists were "all in good shape and health."
Egyptian TV, quoted Defense Minister Hussein Tantawi as telling President Hosni Mubarak that half of the kidnappers were dead.
The Sudanese news agency, SUNA, cited armed forces spokesman Brig. Osman Mohamed Al-Aghabash as saying that six kidnappers were killed Sunday and two were captured at a roadblock.
The hostages were released after a coordinated operation between Egyptian and Sudanese forces, SUNA quoted the spokesman of the Sudanese Ministry of Foreign Affairs as saying.
The operation began Sunday, when Sudanese troops stopped some of the abductors at the roadblock, said the spokesman, Ali Yousif. SUNA did not say where the operation occurred.

Watch more on the hostages' release »
The kidnappers, Yousif said, were Sudanese and Chadians, and a document found with the abductors showed they belong to Sudan Liberation Movement.
"The only thing everyone knows for sure right now is that there was no ransom paid for the rescue of the tourists," said Egyptian Tourism Minister Zoheir Garana. "No ransom was paid by any country."
The group of 11 Europeans and eight Egyptians was taken in Wadi al-Gadid -- about 250 miles (400 km) west of the southern Egyptian city of Aswan. They were traveling in four jeeps and were apparently taken to nearby Sudan.
The tourists included five Germans, five Italians and one Romanian, according to Magdy Rady, spokesman for the Egyptian prime minister. He identified the eight Egyptians as four drivers employed for a safari company, the owner of the company, and a security detail assigned to accompany the group.
E-mail to a friend

CNN's Alphonso Van Marsh and David Ariosto contributed to this report.