(CNN) -- NATO defense ministers agreed Thursday to send ships to waters near Somalia's coast to deter and combat piracy there, a spokesman said.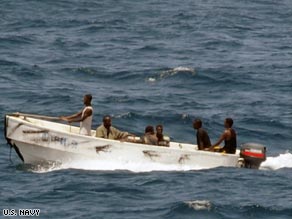 Pirates use a small boat to get to a hijacked ship carrying tanks and ammunition.
"There will soon be NATO military vessels off the coast of Somalia, deterring piracy and escorting food ships," James Appathurai said after a NATO meeting in Hungary.
He said NATO would move seven ships into the area, where piracy has escalated this year and is threatening trade and food shipments.
More than 60 ships have been attacked this year, compared with about half that in 2007, according to a report released last week by Chatham House, a London-based institute that analyzes international affairs.
In late September, pirates seized a Ukrainian ship, the Faina, off Somalia's coast and are demanding a $20 million ransom. U.S. naval ships are nearby and monitoring the situation.
Millions in famine-stricken Somalia depend on the United Nations' World Food Programme's shipments, which are nearly all delivered by sea.
Both the head of the WFP and U.N. Secretary-General Ban Ki-moon had asked NATO for assistance in escorting food ships, Appathurai said.
Last week, a handful of European Union defense ministers agreed to accelerate an EU military naval operation to fight piracy off Somalia's coast.
Appathurai said NATO's presence off the Horn of Africa would be complimentary to the EU. There's "no competition here and plenty of work to go around," he said.
About 16,000 ships a year navigate the Gulf of Aden, which as the southern gateway to the Suez Canal, is one of the most important trade routes in the world.
The ships mostly transport oil from the Middle East and goods from Asia to Europe and North America.
French, Danish, Dutch and Canadian ships have served in succession as escorts for the WFP ships, but Canada, the last country to do so, has only extended its assistance until October 23.
The organization has called for a comprehensive approach to providing naval escorts for the food ships, noting that without the escorts, ship owners may cancel their contracts with the WFP.
"As yet, no nation has volunteered to take Canada's place," Ban said last week. "Without escorts, those ships will not arrive. Without that aid, more people will die."
The uptick in piracy along Somalia's coast and the hijacking of the MV Faina -- carrying 33 Soviet-made T-72 tanks, tank artillery shells, grenade launchers and small arms -- have spurred international concern and a call to action.
This week, the U.N. Security Council unanimously adopted a resolution asking states to send more international air and naval forces there. The move followed the body's Resolution 1816, passed in June, which granted foreign warships the right to enter Somali waters "for the purposes of repressing acts of piracy and armed robbery at sea," by "all necessary means."
Lackluster harvests, drought, the weakness of the Somali currency and rising food and fuel prices have exacerbated Somalia's hunger problem, according to the WFP.
The organization estimates that more than 3 million Somali people are in need of food.
E-mail to a friend

All About Somalia