HARARE, Zimbabwe (CNN) -- Robert Mugabe's political rivals Saturday accused the Zimbabwean president of "ambush" in allocating key ministries to his own party in defiance of a power-sharing agreement aimed at ending political turmoil in the country.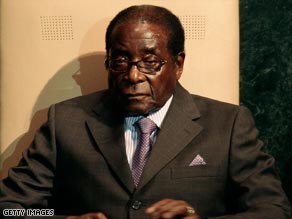 The opposition MDC accuses Mugabe of "ambush."
Zimbabwe's state-run Herald newspaper reported that ministries inlcuding defense, justice, and media, were being placed in the hands of Mugabe's ZANU-PF.
Party spokesman Bright Matonga said the move had cross-party support but the Movement for Democratic Change's Nelson Chamisa decried the move is an "ambush" that puts the power-sharing deal in jeopardy.
Under the deal reached last month, Mugabe stays in office but shares power with MDC leader Morgan Tsvangirai, who became vice president. Arthur Mutambara, who leads a splinter MDC faction, became deputy vice president.
"The MDC dismisses ZANU-PF's unilaterally gazetted wish list of ministries, which is a betrayal of the wishes, expectations and aspirations of the majority of Zimbabweans," the MDC said in a statement. "It is a giant act of madness which puts the whole deal into jeopardy."
The plan outlined in The Herald would give 14 government ministries to ZANU-PF and 13 to the MDC. Three ministries would go to Mutambara's faction.
Among the ministries reportedly allocated to ZANU-PF are defense, home affairs, foreign affairs, justice and legal affairs, and media and information.
Ministries given to Tsvangirai's MDC would include constitutional and parliamentary affairs, economic planning, health, labor, and sport, arts and culture, the paper said. Mutambara would oversee education, industry and commerce, and regional integration and international cooperation.
The ministry of finance, the paper said, remains in dispute.
The MDC accused the ZANU-PF of trying to undermine the work of former South African President Thabo Mbeki, who helped broker a deal to end months of violence following a disputed election.
The paper said Mbeki was due to to go Zimbabwe to resolve the question of the finance ministry.
Mbeki mediated the power-sharing talks that aimed to resolve the disputed March election. Tsvangirai won the most votes in March but not enough to avoid a runoff, according to the government's official count.
Tsvangirai withdrew from the June 27 runoff days before the vote, saying Mugabe's supporters had waged a campaign of violence and intimidation against opposition supporters.
E-mail to a friend