From Journalist Mohammed Amiin

MOGADISHU, Somalia (CNN) -- At least 47 people have been killed in a series of violent incidents in Somalia, according to reports.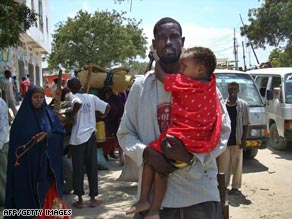 A Mogadishu resident flees after fighting among insurgents and peacekeepers on September 24.
A roadside bomb exploded Monday as African Union forces were traveling through K4 square, a major junction in southern Mogadishu, witnesses said. An exchange of gunfire between AU forces and insurgents followed the bombing, they added.
At least five civilians were killed and another 20 people wounded, including an AU soldier, an AU spokesman said.
Also slain were an insurgent, a spokesman for the Islamist insurgents said, and a Somali government soldier, according to a government spokesman.
The daytime attack on the square, which is also a base for the AU forces, came a day after 400 Burundian soldiers landed at Mogadishu's airport, which reopened this week after militant Islamists lifted a siege on it. A nearby school was hit by artillery and people could be seen fleeing under a hail of bullets.
In another incident on Monday, insurgents ambushed Ethiopian forces 6 kilometers (3.7 miles) east of Bardale and 300 kilometers southwest of Mogadishu, leaving at least 40 Ethiopians dead, Islamists said.
A military vehicle was destroyed in the attack, which witnesses said lasted for at least an hour and included heavy gunfire between the insurgents and the Ethiopian forces.
Ethiopians had set up checkpoints outside Bardale, witnesses said.
In a third incident, members of the Islamic Courts Union on Monday ambushed a convoy of 18 Ethiopian military vehicles in the town of Leego, between Mogadishu and Baidoa and 130 kilometers southwest of Mogadishu.
Fighting was continuing two hours later in the town, which is along the road that is the sole route Ethiopian convoys can take between Ethiopia and Somalia.
E-mail to a friend

All About Somalia • War and Conflict • Mogadishu