By John Blake
CNN
(CNN) -- Eve Ensler can't find the right words to describe what she's seen and heard.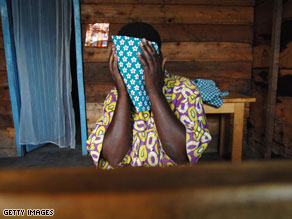 A Congolese rape victim recovers at a hospital. Rape victims often face widespread rejection.
"Obscene. Horrible. Out of control...." The activist tosses out a cluster of angry words, trying to describe what is, in some ways, indescribable.
She talks about a woman being gang-raped by 15 soldiers. Some violated with sticks and knives. Cannibalism. She has returned from the Democratic Republic of the Congo, where thousands of women and girls have been systematically raped during a 10-year war that some say has cost more lives than any other war since World War II.
"It's 'femicide,' " Ensler says, using another word to describe the treatment of Congolese women. "It's the systematic destruction of women. It's an economic war fought on the bodies of women. It's the destruction of the Congolese people and life itself."

Watch rape victim tell her story »
Ensler and others are trying to stop the gruesome attacks against women by launching a series of campaigns that pivot on what Ensler says is a debatable premise -- people will care what happens to dark-skinned Africans.
The centerpiece of Ensler's campaign is "The City of Joy," an all-female village in Congo where rape victims can recover from their physical and psychological wounds. Other groups such as UNICEF have mounted similar efforts to empower Congolese women and encourage the world to act.
The world's reaction has been muted so far and Ensler, best-known as the playwright of "The Vagina Monologues," says she knows why.
"A lot of it is flat-out racism," she says. "When we see conflicts that involve white people, the world responds faster. Bosnia is a perfect example."
Don't Miss
Other Congo activists say the world hasn't acted because they don't know. People will respond once they hear the terrible stories, says Candice Knezevic, the "RAISE Hope for Congo" campaign manager for the Enough project, a group founded to end genocide and crimes against humanity.
"They are astonished and they care when you tell them," Knezevic says. "I haven't met a single person who doesn't care about what's happening in the Congo. The problem is so few know about it."
Congo has long, bloody history
There seems to be so much to know. The history of Congo is as tangled and bloody as the complex war that engulfs it today.
Belguim ruled Congo from 1885 until it gained its independence in 1960. According to the CIA World Factbook, Congo has long been "marred by political and social instability."
The Factbook's dry description does not do justice to Congo's gory history. Adam Hochschild, author of the prize-winning book, "King Leopold's Ghost," wrote that Belgian King Leopold murdered up to 8 million Congolese while robbing the country of ore and rubber at the beginning of the 20th century.
The struggle for control of Congo's rich natural resources -- the CIA Factbook says it is "endowed with vast potential wealth" in diamonds, gold and cobalt -- has fueled much of the violence today, activists say.
Since 1998, various armed factions -- tribal, rebel and militia -- have fought for control of the country and its resources. UNICEF says the war has cost more lives than any other war since World War II.
Rape has become a primary weapon in that war, says Geoffrey Keele, a UNICEF spokesman. Keele says rape is designed to destroy the Congolese community. Husbands, families and villages often shun rape victims. A weak and divided community is easier to conquer.
"Rape is designed not just to injure and dehumanize the women but impact their families and communities," Keele says.
Keele says UNICEF has established at least 90 forums throughout eastern Congo this year to educate women about their rights and encourage rape victims to talk about their abuse.
Congolese women have traditionally held such low status that many expect violence from their husbands and men, Keele says.
"A lot of the women we talked to had said that this is just their lot in life and it is something to be endured," he says.
Turning 'pain into power'
The City of Joy is designed to change that attitude. It is the product of a partnership with UNICEF and V-Day, a global movement Ensler launched to end violence against women and girls. The city, which Ensler hopes to open in September 2009, will offer counseling, education and entrepreneurial training to rape victims.
Ensler says she's met plenty of Congolese women who are primed to "turn their pain into power." Some are already risking their lives to report their rape and stand up to men, she says.
"These are the strongest and most incredible women on the planet," Ensler says.
They are women like Lumo Furaha who recently told V-Day why she decided to talk publicly about the time scores of armed men raped her repeatedly.
"They wanted to destroy me; destroy my body and kill my spirit," she recalled. "I am speaking out because I don't want any child of the next generation to have to live through what I have lived through."
It may be too late, however, for Furaha's wish to come true. Congo's next generation is already being twisted, Ensler says.
She says many boys have been forced to watch their mothers and sisters raped. She wonders what kind of men these boys will become if no one helps them sort through what they've seen.
"There is no place in the culture for a boy to say, 'I feel powerless and broken,' " she says. "He becomes violent."
Ensler says she saw a frightening example of that ripple effect during her last trip to Congo. She was in a hospital when nurses brought in a 3-year-old girl who had been raped -- by two 10-year-old boys.
Congo's future, she says, may look even more frightening than its past.
"What's going on in the Congo is so extreme and so out of control," she says, "that if we don't intervene on behalf of women there, it will spread and something much more horrible will happen.
"You cannot let something that inhuman go on."
E-mail to a friend

All About Democratic Republic of the Congo • UNICEF