(CNN) -- Celebrations erupted in Barack Obama's ancestral home in Kenya after the U.S. Democrat made history by being elected America's first African American president.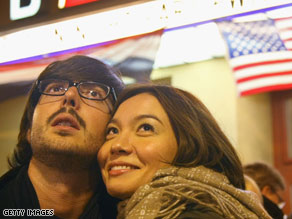 A German-speaking couple in Berlin watches the U.S. elections on TV late Tuesday night.
In K'Ogelo, a small village of less than a thousand people, nicknamed the "epicenter for Obamamania," Obama's grandmother, half-brother and relatives eagerly watched the election results. Here T-shirts, bootleg CDs and other memorabilia related to the man many had hoped to be the next U.S. president were being sold, according to CNN's David McKenzie.
In an interview billed as an exclusive with The Standard, his grandmother, Mama Sarah Hussein Obama, had urged "no early celebrations" until the election was over. Interviews with the media had been turned down until after the election to allow her rest and to watch the returns.
"Tonight we are not going to sleep," said Valentine Wambi at the University of Nairobi where hundreds of students were holding an election party in the Kenyan capital, according to The Associated Press. "It will be celebrations throughout."
Election Night in America
Watch history unfold with CNN and the best political team on television.
Tonight

The Web site of Kenya's The Daily Nation newspaper posted the time Obama was declared the victor shortly after 7 a.m. local time. iReport.com: World reacts to historic election
Hundreds had earlier gathered around a massive bonfire of burning tires, holding up Obama posters, blowing whistles and waving American flags in Nairobi's Kibera shantytown, one of Africa's largest slums, AP reported.
In Asia, stocks rose sharply, as election returns were coming in, a sign investors were upbeat about a likely Obama win and saw it as a harbinger of an improved U.S. economy, key to Asian exports.
In Seoul, South Korea, Wednesday morning, catcalls went out after every state called for Obama, said CNN's Sohn Jie-Ae, who attended a viewing party by Democrats Abroad, the overseas branch of the U.S. Democratic Party. The organization says its membership increased by more than 400 in the past few months, Sohn said. The people at the viewing party were camera-shy, however, because many had called in sick to watch their candidate become president.
In a mock election of 150 students, journalists and academics at the U.S. Embassy Election Watch Open House, McCain won 25 votes, Obama had 132 votes, and Nader had none, Sohn said in a blog.
In Noida, India, just outside New Delhi, CNN's Sara Sidner said she observed that the U.S. election was not the minute-to-minute preoccupation of most people trying to eke out a daily living.
"Many could care less about it and are worried about the issues they and their country are facing." But CNN partner CNN-IBN was dedicating more than seven hours to the U.S. election, with huge graphic touch screens and commentators -- something unseen by U.S. networks to a national election other than their own, Sidner reported.
E-mail to a friend

Copyright 2008 CNN. All rights reserved.This material may not be published, broadcast, rewritten, or redistributed. Associated Press contributed to this report.
All About U.S. Presidential Election • Elections and Voting