(CNN) -- Sudan's president has agreed to an immediate, unconditional cease-fire in the Darfur region where government forces have waged a bloody war against militias that international critics have characterized as genocide.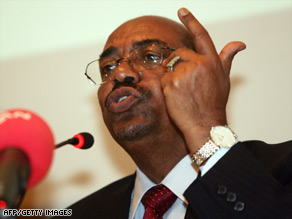 Sudan President Omar al-Bashir, who was charged with war crimes, is under pressure to end the war in Darfur.
President Omar al-Bashir agreed to the truce, which was one of several recommendations that came out of a month-long meeting with hundreds of tribal and rebel leaders from Darfur, according to Mohamed Hussein Zaroug, a Sudanese diplomatic official in London, England.
Sudan's state-run news agency confirmed that the president agreed to the cease-fire, which he announced in a speech on Wednesday morning in Khartoum.
Al-Bashir is under pressure to end the fighting, particularly since he was charged with genocide by the International Criminal Court earlier this year for the government's campaign of violence in Darfur.
Don't Miss
Fighting in the western region of Darfur broke out in 2003, when rebels began an uprising and the government launched a brutal counter-insurgency campaign.
Sudan authorities armed and cooperated with Arab militias that went from village to village in Darfur, killing, torturing and raping residents there, according to the United Nations, Western governments and human rights organizations. The militias targeted civilian members of tribes from which the rebels draw strength.
In the past five years, about 300,000 people have been killed through direct combat, disease, or malnutrition, the United Nations says.
Another 2.7 million people have been forced to flee their homes because of fighting among rebels, government forces, and allied Janjaweed militias. In Arabic, Janjaweed means a man with a gun on a horse. These Arab militias are notorious for raping and killing villagers in Darfur.
E-mail to a friend

All About Darfur • Omar al-Bashir • Sudan • Khartoum