By Journalist Mohamed Amiin Adow
(CNN) -- Islamic fighters have seized control of a strategic Somali port city just outside the capital, Mogadishu, where United Nations relief supplies enter the famine-stricken country.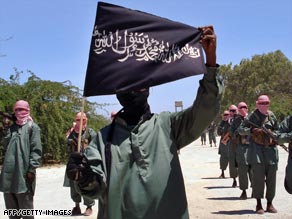 Islamist fighters from Al-Shabaab group in Somalia display their flag.
Al-Shabaab fighters chanted "Allahu Akbar" -- or "God is great" -- on Wednesday as the armed men entered Merka, located about 90 km (55 miles) south of Mogadishu, a local resident said.
Earlier this year, the United States designated Al-Shabaab a terrorist group and has accused it of having ties to al Qaeda.
On Tuesday, Al-Shabaab took control of two towns near Merka -- Bulo Marer and Quryoley -- giving it a strategic base in central Somalia, where it also controls Kismayo, the country's third-largest city.
The fall of Merka marks the most important territorial gain by Al-Shabaab since it took control of Kismayo earlier this year.
Al-Shabaab is consolidating its control in Somalia less than a week after a cease-fire was declared between other Islamic militias operating in Somalia and the country's transitional government.
Under the pact -- which took effect last Thursday -- Ethiopian forces who support the transitional government would begin to withdraw from key positions on November 21 and leave Somalia completely within another 120 days, ending a two-year presence in its strife-torn, Horn of Africa neighbor.
Al-Shabaab has rejected the cease-fire and was not a signatory to the deal, which was signed in Djibouti in late October and brokered by the United Nations and the African Union.
Residents of Merka said hundreds of heavily armed Al-Shabaab fighters stormed the city without a fight, as rival militias who controlled the town had left Merka hours earlier.
"They are now in everywhere in the town including the police station and the prison," said Ali Sharif Hassan, a local businessman in Merka. "Residents are coming out into the streets in large numbers to see them."
Many of the Islamic fighters rolled into Merka in "technicals" -- pick-up trucks mounted with anti-aircraft weapons that may have scared off the rival militias.
So far, Al-Shabaab's seizure of Merka has not affected the U.N. World Food Programme's aid shipments to the port city, WFP spokesman Peter Smerdon told CNN.
"The situation in Merka appears to be calm," Smerdon said from his office in Nairobi, Kenya. The WFP currently has 25 Somali staffers in its Merka office, he said. Its eight international staff members were relocated a few weeks ago following the murder of a fellow staff member, he said.
"All we can say is WFP is a neutral organization -- we work with the authorities who are in place to deliver life-saving humanitarian aid," Smerdon said. "Merka is a very strategic location for us, a natural beach port .. that we plan to continue using."
Ninety percent of WFP's food for Somalia arrives by sea, either through Mogadishu or Merka. The shipments are currently being escorted by NATO naval vessels to protect them from pirate attacks off Somalia's coast.
Smerdon said most of the aid is delivered through Mogadishu because "Merka can only take smaller ships, which have to unload on barges that take them on shore." But Merka is a key port city because it allows WFP to reach more of southern Somalia.
The conflict in the country makes it one of the most dangerous places in the world -- particularly for international aid workers -- and is making the humanitarian situation worse. More than 3 million people are estimated to be in need of humanitarian assistance there -- a 77 percent increase since the start of 2008 -- according to a U.N. funded analysis released in August.
One in six children under the age of 5 years is now acutely malnourished, and the numbers are rising, the analysis found.
E-mail to a friend

All About Somalia