(CNN) -- The prosecutor at the International Criminal Court at The Hague on Thursday requested arrest warrants for rebel leaders allegedly responsible for attacks last year on peacekeepers in Sudan's Darfur region.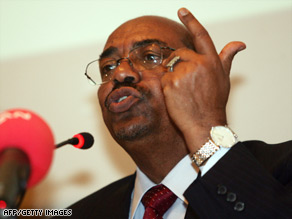 The ICC has already charged Sudan President Omar al-Bashir with war crimes in Darfur.
They are the first warrants ever requested for the killing of peacekeepers, an ICC spokeswoman said. Such an act constitutes a war crime.
"I will not let such attacks go unpunished," ICC Prosecutor Luis Moreno-Ocampo said Thursday.
The attacks happened in September 2007 when a thousand rebel-led soldiers surrounded and stormed an African Union peacekeeping base in Haskanita, in southern Darfur, the ICC said. Twelve peacekeepers were killed and eight were wounded in the overnight attack, the deadliest single attack on AU peacekeepers since they began their mission in late 2004.
Moreno-Ocampo determined there were reasonable grounds to believe that rebel commanders bore criminal responsibility for the attacks. The warrants cover three counts of alleged war crimes for murder, intentionally directing attacks on personnel and objects involved in a peacekeeping mission, and pillaging.
"They planned, led their troops and directed the attack which killed 12 peacekeepers, severely wounded eight others, and completely destroyed [African Union] facilities and property, directly affecting aid and security for millions of people of Darfur who are in need of protection," the prosecutor said.
It was unclear when the judges might decide on the arrest warrant request. ICC spokeswoman Florence Olara said there was no set deadline for them to go through the evidence and make a ruling.
In July, Ocampo asked for Sudanese President Omar al-Bashir to be indicted on war crimes charges in Darfur. Sudan does not recognize the ICC's jurisdiction nor does the United States.
Human Rights Watch praised the prosecutor's request for the warrants, calling it "an important step toward protecting those who protect civilians."
"Civilians rely on peacekeepers for protection, and any hope for restoring security for civilians in Darfur depends on peacekeepers being able to do their job," said Richard Dicker, director of the International Justice Program at Human Rights Watch. "These warrant requests send a strong message that such crimes will not be tolerated."
The attack on the AU peacekeepers came months before the 7,000-strong force was replaced by a U.N. peacekeeping force of 26,000 troops.
The U.N. force, known as UNAMID, is a joint operation between the United Nations and the African Union. It took over formally at the end of 2007.
The conflict in Darfur began in 2003 after rebels in the western region of Sudan began attacking government positions. Sudan's government responded with a fierce military campaign that has led to some 200,000 deaths and forced 2 million people to flee their homes, according to the United Nations.
E-mail to a friend

All About Darfur • Omar al-Bashir • Sudan • Khartoum