(CNN) -- An estimated 13,000 Congolese civilians threatened by fierce fighting and gruesome attacks have fled to neighboring Uganda over the past two days and more are expected, the United Nations' refugee agency said in a news release Thursday.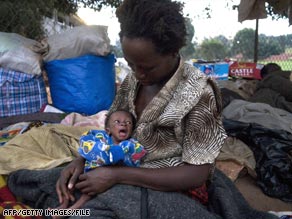 Congolese Anosiate Nyirahabineza holds her son Jeremiah in Kampala, Uganda, in June.
The agency said the people fled from villages in the besieged province of North Kivu, in the eastern Democratic Republic of Congo, where fighting between rebels and government troops has prompted the displacement of 250,000 people since August.
The staff of the U.N. High Commissioner for Refugees in the southwestern Uganda town of Ishasha said the people crossed into Uganda from Congo's Rutshuru district.
Since August, about 27,000 civilians have escaped to Uganda, which now hosts more than 150,000 refugees from countries in the region.
The U.N. agency said the latest refugees are reporting many attacks and atrocities.
It quoted a 25-year-old named Daudi, who said, "The assailants killed everybody in my village. They took the young boys with them and killed all the rest of the population. It's a miracle that my wife and I managed to escape."
He said one of his two children was separated from the family and it is not known where he is.
Another villager said rebels who attacked his village "killed all the women, even pregnant women," the U.N. agency said.
E-mail to a friend

All About Democratic Republic of the Congo • United Nations High Commissioner for Refugees