HARARE, Zimbabwe (CNN) -- A group of Zimbabwean citizens are taking a government department to court for failing to provide them with adequate and safe drinking water as the country's cholera-related death toll nears 400.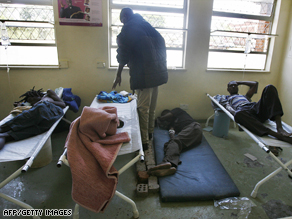 Cholera patients wait for treatment at Budiriro Polyclinic in Harare.
A group from Chitungwiza, a residential area of Harare, filed an application Friday in the High Court suing the government-run Zimbabwe National Water Authority (ZINWA), which is responsible for supplying water in the beleaguered nation.
"Due to their lack of diligence and constant supplies of clean water to my place of residence, diseases like cholera surfaced and people are dying," said Arthur Taderera, the chairman of the Chitungwiza Residents and Rate Payers Association, in his affidavits to the court.
"There are large pools of raw sewage in our streets posing danger to young children and also ourselves. There is nothing we can do, as the respondent (ZINWA) has exclusive jurisdiction and control over all water resources.
"It is an offense for me to fix the sewer system on my own because that is the prerogative of the respondent."
Zimbabwe is experiencing its worst humanitarian crisis since attaining independence from Britain 28 years ago.
A cholera epidemic broke out in September in Chitungwiza, about 30 kilometers (18.6 miles) southeast of Harare. The water-borne disease has so far claimed the lives of nearly 400 people and has since spread to South Africa.
The International Committee of the Red Cross said Thursday there have been more than 9,500 reported cases of cholera in Zimbabwe.
Medical professionals blame the cholera resurgence on the lack of safe water in many parts of Zimbabwe, the ICRC said. In some areas, residents have to take water from shallow wells or other contaminated sources like rivers, because taps are dry most of the time.
"The current rainy season is another factor," said Sendra Eigenheer Fust, a water and sanitation engineer with the ICRC in Harare. "Rainwater on the ground is easy to collect, making it a tempting source of drinking water. The problem is that it may be contaminated."
Almost a decade of economic meltdown has made it impossible for Harare to import adequate chemicals to treat water.
Unemployment estimated at 90 percent and the official inflation rate is 231 million percent -- the highest in the world. The United Nations says about half of Zimbabwe's population is in urgent need of food aid.
A power-sharing deal between President Robert Mugabe and the opposition, signed in September months after the disputed presidential election, has failed to take off.
The opposition Movement for Democratic Change (MDC) has refused to form the government of national unity, accusing Mugabe of grabbing all the key ministries such as foreign affairs, local government, finance, home affairs and defense.
The government of national unity was seen by many as the only springboard for Zimbabwe out of its economic quagmire.
E-mail to a friend

All About Morgan Tsvangirai • Robert Mugabe • Jimmy Carter • Zimbabwe