(CNN) -- The European Union will launch its first naval operation Tuesday, protecting vessels from pirate attacks off the coast of Somalia, EU policy chief Javier Solana announced Monday.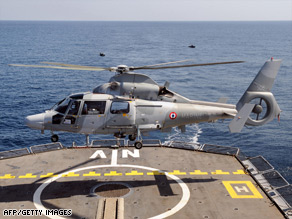 A French army helicopter taking off from French frigate Nivose, on patrol in the Gulf of Aden.
EU foreign ministers approved the mission during their regular meeting in Brussels on Monday. Solana said the operation is "very important" because EU vessels will be operating "in a place in the world that everybody's looking at because of the new problems related to piracy."
"It's very important that we have taken that decision to launch it tomorrow," he added.
The EU naval force will take over the role of escorting United Nations World Food Program vessels carrying food and relief supplies to war-torn Somalia, an EU news release said.
Its mandate, which is spelled out in several U.N. Security Council resolutions, also will include "the protection of vulnerable vessels cruising off the Somali coast, and the deterrence, prevention and repression of acts of piracy and armed robbery off the Somali coast," the news release stated.
The deployment follows a decision by the European Council in September that established a coordination cell that supported surveillance and protection operations by several member states off the Somali coast.
Piracy has become increasingly common in that area this year, particularly in the Gulf of Aden. So far, pirates have attacked almost 100 vessels off Somalia's coast and successfully hijacked nearly 40, according to the International Maritime Bureau.
Don't Miss
Those hijacked vessels include an enormous oil tanker, a chemical tanker, and a ship laden with Soviet-era arms, including tanks. The pirates normally hold the ships for ransom.
The Somali-based pirates have extended their reach beyond Somalia's coastline. On Saturday, a Dutch-operated container ship outran pirates off the coast of Tanzania, an IMB official told CNN.
A luxury cruise ship carrying more than 1,000 passengers and crew successfully outran pirates off the coast of Yemen last weekend.
A multinational fleet -- including vessels from the United States, NATO member states, Russia and India -- has been patrolling the Indian Ocean waters near the Gulf of Aden, which connects the Red Sea and the Arabian Sea. Around 20,000 oil tankers, freighters and merchant vessels pass along the crucial shipping route each year.
In a recent interview provided to CNN, a pirate leader claimed attacks on shipping would continue so long as life in Somalia remained desperate.
"The pirates are living between life and death," said the pirate leader, identified by only one name, Boyah. "Who can stop them? Americans and British all put together cannot do anything."
E-mail to a friend

All About International Maritime Bureau • Somalia • European Union