By Stephanie Busari
For CNN






(CNN) -- Up to 60,000 people in Zimbabwe could be infected with cholera if the epidemic worsens, the World Health Organization (WHO) said Tuesday.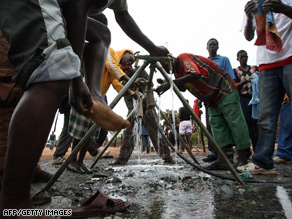 A shortage of clean drinking water has unleashed a cholera epidemic in Zimbabwe.
According to United Nations estimates, cholera has killed 600 people in Zimbabwe this month alone and infected 14,000 people.
The U.N. figures are based on the number of people who have been seen at hospitals and health centers.
However, with the country's health infrastructure crumbling and people no longer having access to treatment, the WHO says the death toll is likely to be much higher.
"The health-cluster assessment in a worst-case scenario is 60,000 cases," a WHO spokesman Paul Garwood told CNN.
"This is based on Zimbabwe having a population of 12 million. Half of the population could be at risk and of that half, there is a one percent cholera attack rate," he said.
Garwood, who is working in one of the worst hit areas, Budiriro, on the western outskirts of Harare, described being at a hospital where patients are only being treated for cholera.

View image gallery of Zimbabwe cholera crisis »
"It used to be a poly clinic where different illnesses were treated but now there are only cholera patients," he said.
Even when people have been treated, the risk of re-infection remains high, he said.
Don't Miss
"Cholera can be treated quickly and people can get better quickly but the challenge is ensuring they don't get re-infected and clean drinking water needs to be available," he said.
Cholera, an intestinal infection, is spread through contaminated food or water. It is highly contagious and can lead to severe dehydration and death.
Aid agency International Committee of the Red Cross (ICRC) said Tuesday it was ramping up its response to the outbreak by sending doctors specializing in infectious diseases and a medical logistician specializing in health, sanitation and hygiene have arrived in the country.
Last week, the agency delivered 13 tons of medical supplies to the ICRC in Harare.
The specialists are determining the effect of the outbreak in remote regions and hope to improve case management and emergency preparations in clinics that have not yet dealt with cholera.
"Since yesterday they have been assessing the situation in order to determine how we can do more to help those who have contracted cholera or are at risk of developing the disease," said Benjamin Fouda, the ICRC's health coordinator in Zimbabwe.
The cholera outbreak is part of a larger humanitarian crisis and economic meltdown in Zimbabwe, in which half the population is in dire need of food and water, according to the United Nations.
The crisis has sparked outrage in the international community, and leaders have blamed President Robert Mugabe for the problem.
U.S. President George W. Bush has joined other Western leaders to call for Mugabe to step down, saying in a statement Tuesday: "It is time for Robert Mugabe to go," Bush said in a statement. "We urge others from the region to step up and join the growing chorus of voices calling for an end to Mugabe's tyranny."

While Kenya's prime minister, Raila Odinga, called for troops to "dislodge" the leader.
Mugabe is blamed for the economic collapse of the country, where the official rate of inflation is 231 million per cent and the highest in the world.
E-mail to a friend

All About Cholera • Zimbabwe • United Nations