BAGHDAD, Iraq (CNN) -- A suicide bomber in northern Iraq attacked a restaurant Thursday, killing at least 55 people and wounding 109, a local police official said.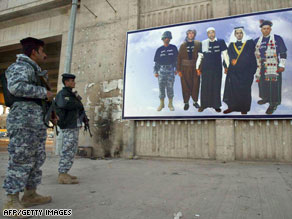 Iraqi soldiers on Monday look at a poster in Kirkuk depicting the region's various ethnic groups.
The attack occurred just north of Kirkuk in a packed restaurant called Abdalla Kabab during the lunch hour, a Kirkuk police official said.
Initial reports indicated a suicide bomber got out of a car and strode into the restaurant, where he detonated his explosives vest.
It happened during the holiday of Eid al-Adha, when many Iraqis go to parks, markets and restaurants, and the location is on the main road between Kirkuk and Erbil, the capital of Iraq's three-province Kurdish region.
The official said the restaurant has a play area for children and is busy during the holiday period, which comes at the end of the hajj pilgrimage.
An Interior Ministry official and another Kirkuk police official reported lower casualty figures, but said they expected those numbers to rise.
Tension has rippled for years through Kirkuk, a restive city where Kurds, Arabs and Turkmen have been jockeying for political power.
Kurds believe the city, in Tameem province, is historically Kurdish and should be incorporated into the Kurdish region. Turkmen and Arabs have opposed that idea.
Iraq's Constitution has called for a referendum on whether Kirkuk and environs should be incorporated into the Kurdish region -- which comprises Duhuk, Irbil, and Sulaimaniya provinces. But that vote has been delayed.
E-mail to a friend

CNN's Jomana Karadsheh contributed to this report.
All About Kirkuk • Iraq • Suicide Attacks