(CNN) -- The number of young children dying from preventable diseases like malaria and diarrhea has increased dramatically because of war in eastern Congo, an aid agency announced Wednesday.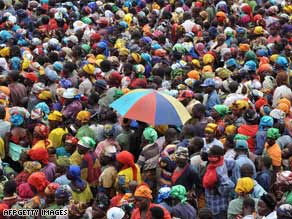 Refugees wait for food last week at a camp near Goma, Democratic Republic of Congo.
Displaced people fleeing the violence are living in poor conditions as they walk for days through the forests to get to camps in and around the provincial capital of Goma, World Vision said.
Hospitals have seen an influx of patients suffering from preventable diseases, the aid group said.
"You can imagine if you've got young children who are really vulnerable, that walking and sleeping under nothing, walking through the forest [will affect them]," said Anna Ridout, part of World Vision's emergency team in Goma.
Cold and damp conditions lead to respiratory distress, she said. Some of those pushed from their homes suffer extreme cases of diarrhea caused by bad sanitation, which leads to dehydration, Ridout said.
The World Health Organization said last month that cholera cases in some areas of the region had tripled since the conflict erupted in October. The disease is mainly transmitted through contaminated water and food and is linked to poor sanitation; it leads to diarrhea and vomiting and can be fatal if left untreated.
Since government troops and rebels began clashing in the volatile eastern part of the Democratic Republic of Congo, "the numbers arriving at the hospital have gone through the roof," said Dr. Louis Kamate of the Virunga Referral Hospital in Goma.
The hospital said 30 children younger than 5 died of preventable respiratory distress in November, a dramatic increase from the three deaths reported in September, according to World Vision.
A health center in the poorest slum in Goma admitted nearly 60 cases of acute respiratory distress in the past week, and all the patients were children younger than 5, World Vision said. Seventy percent of the admitted children had been displaced from their homes, the aid agency said.
"These deaths are a direct result of children living in poor conditions in camps," Kamate said. "The rain goes straight through the banana leaf huts and makes children extremely vulnerable to disease."
More than 250,000 people have been displaced by the conflict, adding to the roughly 800,000 already driven from their homes by past violence, the United Nations says.
E-mail to a friend

All About Goma • Cholera • Democratic Republic of the Congo • World Health Organization