By Mia Farrow
Special to CNN
Editor's Note: Actress, Mia Farrow, a UNICEF Goodwill Ambassador, visited the war-torn eastern Democratic Republic of Congo from December 11-13 to call attention to the impact of renewed conflict on children and women. She visited Goma, the capital of North Kivu Province, as well as surrounding areas. She met with displaced families and visited a health post treating survivors of sexual violence, a transit center for children demobilized or rescued from armed groups, and other UNICEF-supported sites.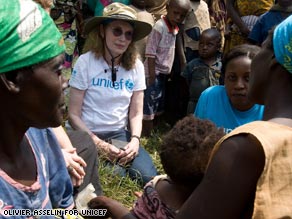 Mia Farrow says the Congo warfare has disrupted every aspect of ordinary life.
(CNN) -- "Every night someone disappears. Parents and children vanish. We don't know where they have gone. There are killings in the nights. We hear shooting," Valerie, a 27-year-old mother, said of life in the Democratic Republic of Congo.
"Our children are terrified. We are almost losing hope," she told me.
Multiple armed groups on a murderous rampage have driven a million people from their homes in Northern Kivu, a Congolese province that abuts Rwanda.
The impact of the violence is evident everywhere and it cannot be overstated. No institutional structure is in place. All ordinary ways of life have been disrupted. People cannot farm or access their land; there is no way to get food; health centers have shut down; traumatized families sleep in schools, churches, in makeshift camps or in the forests.
Children live in terror of being raped or abducted -- the girls are used for sex, boys are forced to fight. Civilians are attacked, raped, tortured and murdered.
Although the United Nations has dispatched the largest peacekeeping operation in the world, it has been unable to protect the people of North Kivu. Last month, with peacekeepers less than a mile away, at least 150 people were massacred.
Outside the U.N. peacekeeping compound in Kiwanja, 10,000 people gathered, seeking safety. As I walked through a sea of makeshift shelters, parents approached me with their children dying in their arms. "There is not enough to eat." they said, " Our children are sick. Help us."
But nowhere is safe in North Kivu. Armed groups have positioned themselves around the regional capital city of Goma.

See photos from Mia Farrow's trip to the Democratic Republic of Congo »
Don't Miss
The Kibati camp for 65,000 displaced people is on the outskirts of Goma and very near the front lines. I watched U.N. humanitarian trucks coming and going, transporting people to a safer site. Some families have moved 10 or more times.
Still, a group of women told me they wanted to move again because, "Every afternoon 'soldiers' come here to rape us. They rape the women and girls, some as young as 1 year old." they said. "We are scared of the military groups. We are all scared."
With people continually on the run, it is wrenchingly difficult for aid workers to meet their needs. And it is nearly impossible to contain the cholera, now at epidemic proportions with some 300 to 400 cases diagnosed per week.
A section of the Kibati camp is cordoned off for those who are sick from cholera. In two large tents, patients lie quietly on cots. It is the bleakest place in a bleak terrain.
Courageous humanitarian workers expressed their frustration and deep concern for vulnerable women and children in the vast areas which are inaccessible due to the fighting. But really, no one is safe anywhere in North Kivu. The day after I left, two aid workers were shot, and one died.
Since 1998, more than 5 million people have perished because of the violence in the DRC, according to a study by the International Rescue Committee. About half were children. Most were driven from their homes into inhospitable land where they died from hunger and disease.
Unless the international community steps up to halt the violence, the human suffering will continue and the death toll will rise.
The international community should use all possible financial, diplomatic and judicial means to pressure rebel groups to disarm and disband, and to get the nations who support them to cease. The rampant plundering of DRC's wealth of resources, including gold, diamonds, uranium, cassiterite and cobalt, must be stopped. The role of U.N. peacekeepers should be more clearly defined to focus on the protection of civilians.
We can all write to our elected officials to help put the issue of the Congo at the top of the political agenda. Those who are able to donate money to UNICEF or any of the aid agencies working in the region should know that their money will save lives.
Over and over again, during my visit, women told me their agonizing stories and expressed their hopes: "To you who have the means, please tell the world that we need protection, we need peace; those who are fighting must be made to stop, those who support them should be made to stop. We have been waiting for protection, but no one is coming."
The opinions expressed in this commentary are solely those of Mia Farrow.
E-mail to a friend

All About Democratic Republic of the Congo • Cholera • United Nations