(CNN) -- Polls closed Sunday in Ghana's presidential runoff election after what one official described as a peaceful round of voting, one that shows the country is an example for other African nations.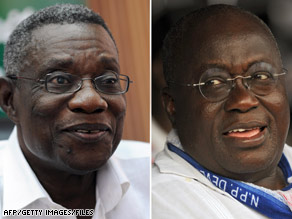 John Atta Mills, left, of the opposition NDC faces Nana Akufo-Addo, right, of the ruling NPP in the runoff.
Election monitors from 70 countries were on hand for the voting, hailing Ghana as a democratic leader for holding open and transparent elections amid news of military coups in Guinea, political strife in the subcontinent and elections in Kenya and Zimbabwe marred by controversy and violence.
"This election is very significant," Ambassador Filiberto Ceriani Sebregondi, head of the European Commission in Accra, Ghana, told CNN. "Ghana is certainly an example country, a model for Africa and the world."
The voting saw no major outbreaks of violence, he said.
The election pits Nana Akufo-Addo of the incumbent New Patriotic Party (NPP) against John Atta Mills of the opposition National Democratic Congress (NDC). The two men led a field of eight candidates in the December 7 election but failed to secure more than 50 percent of the vote.
The Ghanaian constitution requires a second round of balloting if no candidate wins a clear majority.
Ghana, a country about the size of England, is the world's second-biggest cocoa and gold producer. In 2007, leaders announced the discovery of oil off its shore.
"The recent oil discovery has changed the future of this country, and that is why the two main parties are fighting fiercely," Sebregondi said.
The world recession, however, has hindered growth. Ghana has seen a decline in its exports and will not tap into its oil resources until 2010.
Ghana's Broadcasting Corporation reported that millions of voters cast ballots in the runoff. The winner will succeed outgoing President John Kufuor.
"Overall, this election shows that Ghana is a vibrant democracy with active participation," Sebregondi said.
Ghana's Electoral Commission expects to announce results within 72 hours.
Part of a former British colony, Ghana was among the first African countries to gain independence in 1957. It endured a series of coups before military dictator Lt. Jerry Rawlings took power in 1981. A decade later, Rawlings led the country through the transition to a stable democracy with multi-party elections.
E-mail to a friend

CNN's Helena DeMoura contributed to this report.
All About Ghana • Africa • Accra • African Politics