(CNN) -- The number of cholera deaths in Zimbabwe continues to increase, a World Health Organization spokesman said Monday.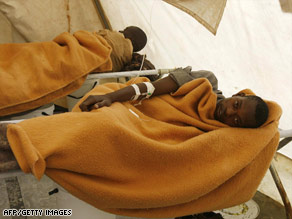 Cholera victims lie in a hospital ward in Harare, Zimbabwe, last week.
As of Sunday, the outbreak had killed 1,564 people, and 29,131 cases had been reported, Gregory Hartl told CNN. These figures represent increases from numbers released Thursday that showed 1,518 deaths and 26,497 cases.
The World Health Organization says the outbreak has affected all of the country's 10 provinces and has spread to neighboring South Africa. It is "closely linked to the lack of safe drinking water, poor sanitation, declining health infrastructure and reduced numbers of health care staff reporting to work."
The organization also says factors "include the commencement of the rainy season and the movement of people within the country, and possibly across borders, during the Christmas season."
Health experts have warned that the water-borne disease could infect more than 60,000 people unless its spread is halted.
Long wracked by political and economic turmoil, Zimbabwe is facing its worst economic and humanitarian crisis since its independence from Great Britain 28 years ago. There is an acute shortage of all essentials such as cash, fuel, medical drugs, electricity and food.
President Robert Mugabe blames the crisis on sanctions imposed by the West on grounds that he is disregarding human rights. But Mugabe's critics attribute the crisis to his economic policies.
The charity Save the Children recently issued a report saying some of Zimbabwe's children are "wasting away" amid the turmoil.
Five million Zimbabweans -- out of a population of about 12 million -- need food aid now, the report said. The group is appealing for 18,000 tons of food for next month.
E-mail to a friend

All About Zimbabwe • Cholera • United Nations