From Karl Penhaul
CNN

BOGOTA, Colombia (CNN) -- The hostages held alongside Ingrid Betancourt in the Colombian jungle endured years of deprivation and abuse from the leftist rebels who kidnapped them, according to one former captive.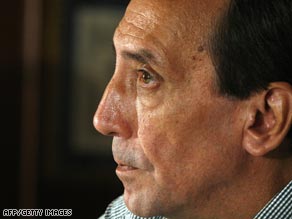 Former Colombian lawmaker Luis Eladio Perez, held hostage for years by FARC rebels, speaks to the press.
Yet some hostages also turned on each other during their long ordeal -- a time when they fought disease and despair while chained by the neck to trees or each other.
Hostages argued with each other. They fought.
Betancourt even faced the threat of sexual abuse from other hostages, said Luis Eladio Perez, a former Colombian congressman who spent four of his seven years as a hostage alongside Betancourt. The rebels freed him this year.
"Without doubt, very many people living together is very tough," he said. "There were daily incidents and conflicts. Different opinions among the hostages create friction that results in fights."
His account provides a more complete and nuanced look at the range of problems that Betancourt and 14 other hostages faced until a daring Colombian mission freed them last week.
He also detailed a failed escape attempt in which he and Betancourt bolted into the jungle, dived into a river and tried to swim to Brazil. That exacerbated tension among the hostages and led to even harsher treatment from their captors in the Revolutionary Armed Forces of Colombia, or FARC, which continues to hold an estimated 750 hostages.

CNN's Karl Penhaul examines the future of FARC »
Perez alluded to tension between Betancourt and other hostages.
Don't Miss
"There were one or two cases that overstepped the mark partly because of Ingrid's attitude and dignity," he said, "but those of us who were friends with Ingrid backed her."
He did not elaborate. Betancourt, a French-Colombian who was running for president when FARC kidnapped her in 2002, has not elaborated on mistreatment by her fellow captives, either.
The 46-year-old mother of two has given glimpses of how she was treated by her captors, saying she "suffered terribly" at their hands. She has called her jailer, "Commander Enrique," a man "of special cruelty" and described being chained by the neck to other hostages.
Betancourt said she also endured a series of health problems. She lost weight, suffered from crippling exhaustion and had trouble eating and drinking.
"It was not treatment that you can give to a living being, I won't even speak of a human being," Betancourt said. "I wouldn't have given the treatment I had to an animal, perhaps not even to a plant."
Three U.S. defense contractors were freed in last week's mission -- Marc Gonsalves, Thomas Howes and Keith Stansell. One of them stuck up for Betancourt, said Yolanda Pulecio, Betancourt's mother.

Watch the homecoming for the former U.S. hostages »
"Congressman Luis Eladio Perez told me Marc Gonsalves has behaved very well with Ingrid and defended her from the aggression of some of the other hostages," she said.
Betancourt also experienced turbulence in a relationship with a friend and fellow hostage and "also had problems with officers and the police," her mother said, citing information from a hostage who escaped some time ago.
Betancourt's husband, Juan Carlos Lecompte, said in an interview before his wife's release that she had experienced problems with some fellow hostages.
"Some police and soldiers who are hostages try to abuse Ingrid," he said, "because maybe after 10 years in the jungle, they lost their mind. There's a lot of terrible things happening there."
Tension between the hostages, however, paled in comparison to the cruelties imposed by their kidnappers in the FARC, a Marxism-inspired insurgent force that has battled to overthrow the Colombian government for more than 40 years.
Many rebels were cordial with Betancourt after they captured her, but mid-level commanders were rude and coarse, Perez said. He said "the atmosphere was not too bad" -- the rebels only chained their hostages from 6 p.m. to 6 a.m.
Then Betancourt and Perez escaped.
Just after midnight on July 20, 2005, as a storm pelted their desolate camp with rainwater, Betancourt and Perez raced into the darkness of the jungle, Perez said. They decided to escape then, he said, after noticing that rebels were encircling the camp with razor wire.

Learn about the former hostages »
They made a run for it despite having little food and even though Perez had not fully recovered from a jungle illness, he said. They ran to a river, dived in and swam for at least two hours. Then they crawled onto the bank and ran until just before dawn.
They hid and rested during the day and swam and ran at night -- for five days.
"We thought the river would take us to Brazil," he said.
Food ran low, and Betancourt lost three fish hooks she had brought with them. Perez, a diabetic, began having problems with low blood sugar, he said, and they turned themselves in on the sixth day.
"When we handed ourselves in, then there was absolute repression by the guerillas," he said.
Now the rebels kept their hostages chained by the throat 24 hours a day -- they were chained to trees first, then to other hostages. That meant that when one person had to go to the bathroom, another was right there. When one hostage turned over while sleeping, the other turned over, too. The rebels also took away hostages' boots, Perez said, and that caused feet to rot.
"That's the biggest abuse the FARC can commit -- treating people like animals," Perez said. "That's like the horrors of the Second World War or in Vietnam, and that's what we're living like in Colombia today."
Betancourt described the effect of such treatment in a letter she wrote to her husband in November -- a letter the rebels allowed her to write to prove she was still alive.
"This is a very dense jungle, and the rays of light scarcely piece the tree canopy, but it is deserted of affection, solidarity or tenderness," she wrote.
"These six years have shown me I'm not as resistant, brave, intelligent or as strong as I thought. I'm giving up. I'm tired of suffering and of lying to myself, believing this will soon end," she told her husband. "Remembering means living then dying again."
Eight months later, an unmarked white helicopter swooped into that dense jungle in an elaborate ruse hatched and carried out by secret Colombian agents posing as leftist rebels.
Betancourt, the Americans and 11 other hostages climbed aboard what they thought was a rebel flight -- and discovered within minutes that they were flying toward the light of freedom.

Watch video of the rescue »
Betancourt and the other former hostages have since savored tearful reunions with spouses and relatives they had not seen in years.
Their exuberance is tempered only, they said, by the knowledge that hundreds of hostages remain in the hands of the FARC, deep in the Colombian jungle, waiting.
E-mail to a friend

All About FARC • Colombia • Ingrid Betancourt