BOGOTA, Colombia (CNN) -- Colombian military intelligence apparently set up a Web site for a fake humanitarian group as part of a ruse to dupe leftist rebels into giving up 15 hostages this month.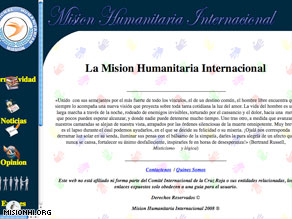 A Web site for a fake humanitarian group appeared shortly before the rescue of 15 hostages in Colombia.
Colombia's Defense Ministry did not respond to CNN's requests for comment about the counterfeit organization and its Web site.
However, a Bogota college student who said he registered the domain name and hosted the site through his company said he was surprised to learn of the site's purpose.
Mision Humanitaria Internacional's Web site popped up a few days before the July 2 mission to rescue the hostages held by the Revolutionary Armed Forces of Colombia, or FARC, in the jungles of Colombia.
The organization was based in Barcelona, Spain, and had been founded in 1999 "to improve the processes of development to guarantee equality of opportunity for individuals and peoples," according to informational pages posted on the site.

Watch how another group's emblem may have been misused »
Spanish-language news articles and press releases from the last nine years filled some of the site's pages. The organization's logo -- a stylized red bird on a white background in the centermost of three concentric circles, with blue leaves on white in the middle circle and the organization's name on a blue background in the outermost circle -- is featured prominently throughout the site.
That same logo was pasted on the side of a helicopter used on the rescue mission that brought former Colombian presidential candidate Ingrid Betancourt, three American contractors and 11 Colombian police and soldiers back from the jungle, according to unpublished video shown to CNN by a military source who had been looking to sell the material.
Don't Miss
The emblems can't be seen in the heavily edited video released by the Colombian Defense Ministry. CNN declined to purchase the unpublished material.

Watch part of the edited video »
But Mision Humanitaria Internacional doesn't exist. Although the site said the group was registered with the Spanish Interior Ministry and the regional Department of Justice, Spanish Interior Ministry spokesman Alvaro Pena said the organization was not registered with the ministry and was not in its records.
The site was littered with misspellings and listed a contact telephone number as 000000000.
Furthermore, the wording on the site's "About Us" section appeared markedly similar to that of the Global Humanitaria nongovernmental organization.
The likeness prompted that Barcelona-based organization to issue a statement Thursday saying it "denounces ... the use of its ideological definition to give content to this supposed organization and declares not to have any type of relation with Mision Humanitaria."
Global Humanitaria's director for Colombia, Lina Marma Correa, said Wednesday, "We do not have anything to do with this fictitious NGO," according to the statement.
Mision Humanitaria Internacional's Web site disappeared from the Internet Tuesday, the day CNN reported on the unpublished video and photos of the rescue.
On Monday, government and military spokesmen said that all logos and emblems used in the mission had been invented. When asked about the Web site, a Colombian defense ministry spokeswoman said Thursday she would be in touch later. She never called back, and further attempts for comment from the Colombian Defense Ministry were unsuccessful.
But a search of Internet records found that Mision Humanitaria Internacional's domain name was registered to David Olarte of Bogota and his company, Darts Studio, which provides domain name registration, Web site hosting and multimedia services with its staff of five.
"What I want most is to clear all this up, that the public sees that I only offer a service so that neither my family nor I have political problems or problems with our safety," he said.
Communicating with CNN via e-mail because he said he was outside Colombia with no access to a telephone, Olarte said someone contacted him through Darts Studio's Web site on June 26 "requesting two services: hosting and registration." Web hosting refers to providing space on Internet servers for the storage of Web sites.
"He simply told me that he wanted the domain name [misionhi.org]," said Olarte, who's 22. "I verified that it was available and I gave him a price. I suppose that he went to the bank, the Bank of Bogota, where my account is, and the deposit went in directly through a bank branch."
Once the funds were in his account, Olarte said, he registered the domain name, set up the hosting space for his client and sent him the information he needed to access it.
Olarte said the deal was conducted entirely via e-mail and that he was not involved with the site's content.
CNN sent an e-mail to a yahoo.com address Olarte said was his contact, but it bounced back with an "unknown account" message. It is a simple process to delete a yahoo.com account, however.
Olarte said he learned about the fake organization on Wednesday and was "very surprised about what happened with misionhi.org."
E-mail to a friend